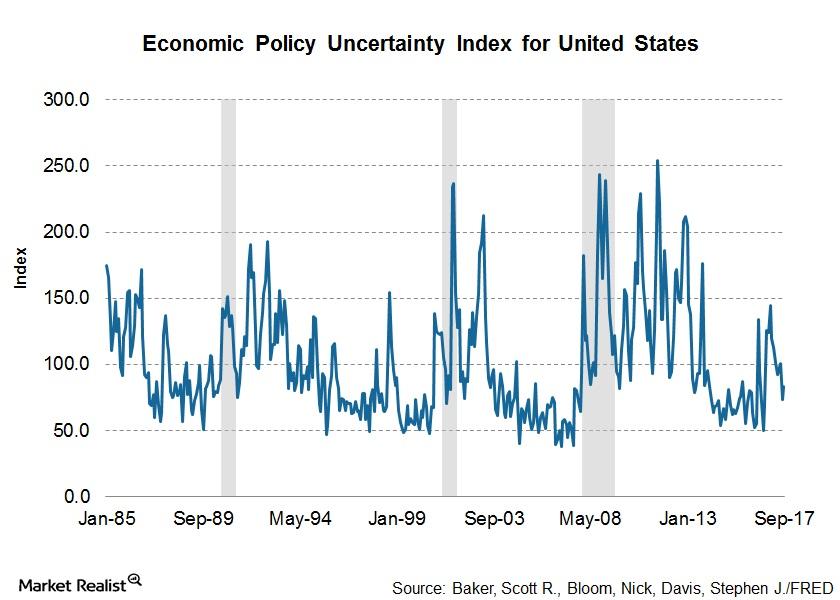 Is the Fed Headed for More Uncertainty?
Four out of seven seats could be vacant
In September, Fed Vice Chair Stanley Fisher submitted his resignation, citing personal circumstances, and will step down in mid-October. This will leave four of the seven seats empty at the Federal Reserve, creating uncertainty about the next appointments.
Notably, Fed Chair Janet Yellen's term comes to an end in February 2018, and we can't be sure if she'll be appointed for a second term. This is an opportunity for the Trump administration to reshape the federal reserve (though the US Senate must approve these appointments), and a vacuum at the Fed could lead to higher policy uncertainty.
Article continues below advertisement
Policy continuation would be in question
With most of the current members leaving the Fed, it's natural to wonder if there will be a smooth transition at the helm of the federal reserve.
The federal reserve's monetary policy and the US economy have just begun returning to normalcy, and a change of guard at the Fed could arguably be favorable for the US economy.
The Fed has laid out clear plans for the normalization of its balance sheet and interest rates. Sudden changes in expectations could lead to high levels of volatility (VXX) in the bond (BND) and currency (UUP) markets.
Uncertainty likely to prevail
It appears that the Fed's uncertainty is likely to stick around, and any economic data reported in coming months will likely be used to guess the Fed's next move.
The key focus will be on the unemployment and inflation data reported in October, November, and December. Bond yields (AGG) and the US dollar (USDU) have already started moving up in response to the Fed's latest statements and President Trump's tax cut proposals, but we'll have to wait to see if these events unfold as planned.