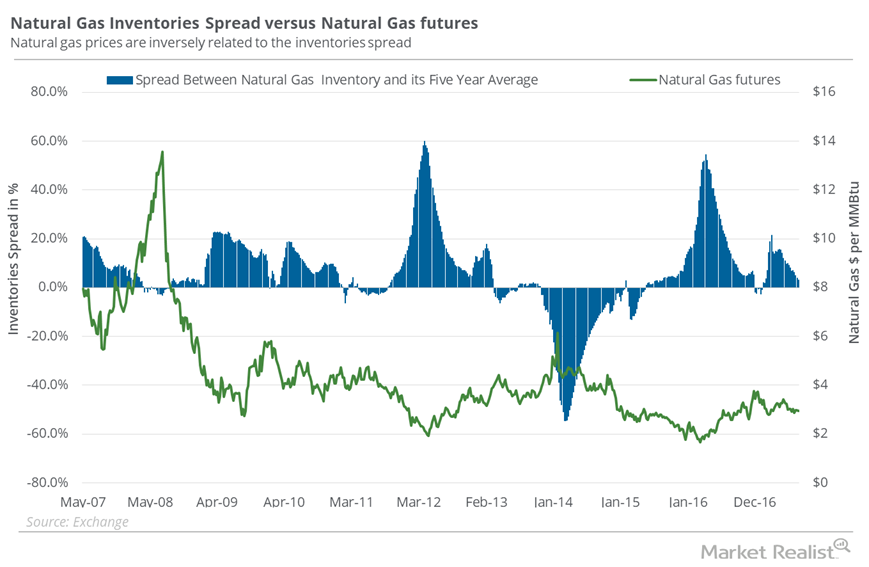 Inventories Spread: What to Expect from Natural Gas
Inventory data
In the week ending August 25, 2017, natural gas inventories rose by 30 Bcf (billion cubic feet) to 3,155 Bcf. The EIA (U.S. Energy Information Administration) reported its data on August 31, 2017. The rise in natural gas inventories was 3 Bcf less than the market's expectation. On August 31, natural gas (BOIL) prices rose 3.4% following the inventory data.
Article continues below advertisement
Inventories spread
The spread between natural gas inventories and their five-year average—called the "inventories spread"—could be crucial for natural gas prices. When the spread is positive and rising, natural gas prices might fall. However, if the inventories spread is negative and falling, it could be bullish for natural gas prices.
When natural gas futures settled at their 17-year low on March 3, 2016, natural gas inventories were 41.5% more than their five-year average.
Based on current data, the inventories spread fell by 1.2 percentage points compared to the previous week. Since the inventory data were released on August 31, 2017, natural gas October futures have fallen 1.3%. In Part 1 of this series, we discussed how mild weather forecasts caused natural gas prices to fall.
However, natural gas inventories are 0.3% above their five-year average and 7% below last year's level. A flip in the inventories spread could mean a large upside for natural prices in the coming days.
Market's forecast
The market expects a rise of 63 Bcf in natural gas inventories for the week ending September 1, 2017. During this period last year, natural gas inventories rose by 36 Bcf. Any rise below 50 Bcf will flip the inventories spread. The EIA will report its natural gas inventory data on September 7, 2017.
The natural gas inventories spread might have little impact on equity indexes such as the S&P 500 Index (SPY) and the Dow Jones Industrial Average Index (DIA) in the short term. Based on correlations, natural gas–weighted stocks such as WPX Energy (WPX) and Chesapeake Energy (CHK) don't track natural gas prices well.