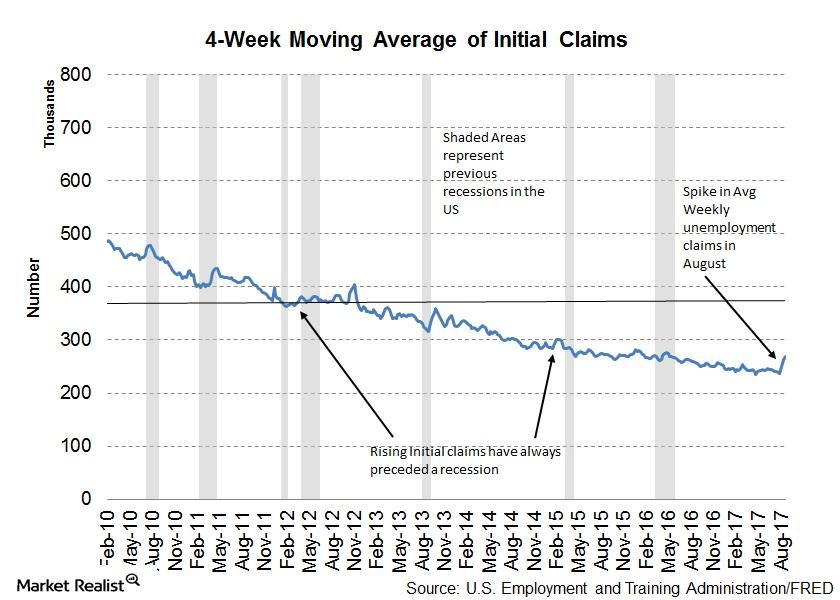 How Unemployment Claims Affected the Leading Economic Index
Weekly claims inch higher
Average weekly unemployment claims are among the indicators used in the Conference Board Leading Economic Index (or LEI). Weekly unemployment claims, which are seasonally adjusted, give an idea of unemployment trends. Unemployment data has a weight of 3% in the LEI.
We should pay attention to weekly claims in addition to non-farm payroll data because claims are more sensitive to business conditions, and weekly claims are used to derive monthly unemployment data. Weekly volatility in claims can be an indication of industry uncertainty.
Article continues below advertisement
Recent data
The latest weekly jobless claims data was reported on September 11. Weekly unemployment claims increased in the first week of September, reflecting the impact of Hurricanes Harvey and Irma on the economy. However, claims are now falling, approaching ~250,000.
As the recent LEI used weekly claims data from August, we'll see the impact of the hurricanes in next month's LEI. Average claims for August stood at 250,400, compared with 241,900 in July. As an increase in the number of claims is negative for the economy, August's claims data had a net contribution of -0.11 to the index.
Implication for markets
Volatility (VXX) in weekly unemployment numbers affects fixed income (BND) and currency markets (UUP). As the Fed considers stable employment one of its policy objectives, in an uncertain monetary policy regime, any changes in unemployment numbers impact short-term bond (IEF) markets and the US dollar (USDU). In the next part of this series, we'll analyze changes to new manufacturing orders in August.