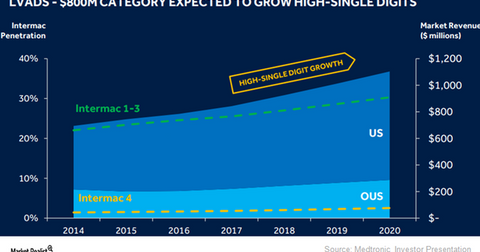 Heartware Acquisition Boosts MDT's Position in Ventricular Assist Device Segment
By Margaret Patrick

Oct. 3 2017, Updated 7:40 a.m. ET
Ventricular assist device market opportunity
On August 22, 2016, Medtronic (MDT) announced that it had completed the acquisition of Heartware International, in an effort to bolster its heart failure offerings with the latter's ventricular assist device (or VAD) portfolio. 
The Heartware International deal, which was concluded for ~$1.1 billion, has strengthened Medtronic's position in the VAD market, which was estimated to be worth $800 million in 2016. 
Article continues below advertisement
The company has estimated that VAD segment could grow in high single digits by 2020. However, the market is expected to rise even faster in the low double-digit range beyond 2020. This increase could be due to the anticipated introduction of physiologic pumps and fully implantable devices in the market by that time.
The chart above shows projections for the growth of the VAD market. These devices help support heart function and drive blood flow in the weak heart. Medtronic had estimated that ~5 million patients suffer from heart failure in the US in 2016. 
The company also projects that this disease prevalence could cross ~8 million by 2030. With annual expenditures on heart failure therapies in the US being close to $39 billion, there is a significant growth opportunity for VAD devices in this market.
Medtronic makes up about 1.1% of the iShares S&P 500 Value ETF's (IVE) total portfolio holdings.
LVAD and patient outcomes
By taking over the functioning of the damaged ventricle in a weak heart, left ventricle assist devices (or LVADs) restore the hemodynamic stability and blood flow in the body. According to the 2014 Annual INTERMACS Report and REMATCH Trial Results NEJM (in 2001), patients who get the LVAD device installed as a supporting therapy before a heart transplant or as destination therapy report a survival rate of ~80% at the end of one year. 
The survival rate has been reported to be as high as 85%–90% for certain patient groups. However, if patients requiring LVADs fail to get this therapy, there is an 80% chance of death occurring in one year. These statistics highlight the importance of LVAD therapy in improving patient outcomes. 
The Heartware International acquisition has enabled Medtronic to compete effectively with other VAD players such as Abiomed (ABMD), Abbott Laboratories (ABT), and Edwards Lifesciences (EW).