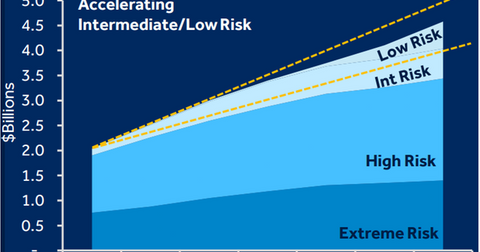 Global Launch of Evolut PRO Valve Could Drive MDT's TAVR Business
By Margaret Patrick

Oct. 2 2017, Updated 2:40 p.m. ET
Heart valve therapies
In 1Q18, Medtronic's (MDT) Coronary and Structural Heart (or CSH) business reported revenues close to $817 million, which is a year-over-year (or YoY) increase of 7% on a reported basis and 8% growth on an operational basis.
The company's Heart Valve Therapies segment reported revenue growth in the mid-20% range, driven by YoY growth in worldwide (or WW) sales of transcatheter aortic valve replacement (or TAVR) therapies in the high 30s.
Article continues below advertisement
Medtronic expects the overall TAVR segment to reach a market value of around $4.6 billion in 2021. If the company reports robust demand for its TAVR therapies in the rest of fiscal 2018, it could support Medtronic stock as well as the iShares Core S&P 500 ETF (IVV). Medtronic makes up about 0.53% of IVV's total portfolio holdings.
Evolut Pro valve approvals
On March 22, 2017, the FDA approved CoreValve Evolut Pro as a treatment option for symptomatic patients suffering from aortic stenosis and at high or excessive risk of open heart surgery. The device has demonstrated solid performance in terms of survival rates, hemodynamic stability, rate of strokes, and paravulvar leaks in the clinical trials.
Owing to the positive clinical feedback, the ongoing launch of Evolut Pro valve for aortic stenosis in the US is expected to prove commercially successful.
Article continues below advertisement
On July 10, 2017, the FDA expanded Evolut Pro's label and made the device applicable for symptomatic aortic stenosis patients who are at intermediate risk for open-heart surgery. This approval was based on positive clinical outcomes from the SURTAVI trial. Further, the company plans to secure approval for the device in the low-risk patient category.
Evolut Pro is expected to enable Medtronic to compete effectively with other TAVR players such as Abbott Laboratories (ABT), Boston Scientific (BSX), and Edwards Lifesciences (EW).
Surgical valve approval
On August 2, 2017, Medtronic secured the CE mark from the European Commission and FDA approval for its pericardial aortic surgical valve, Avalus, for treating patients with aortic valve diseases. This is the only surgical valve on the market that is completely safe for magnetic resonance imaging (or MRI) use.
In the next article, we'll discuss growth prospects for Medtronic in its Transcatheter Mitral Valve therapies segment.