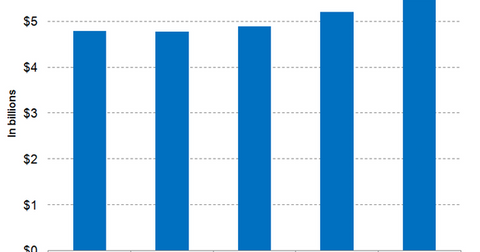 Favorable Foreign Exchange Fluctuations to Boost Zoetis's Revenues
By Margaret Patrick

Updated
Revenue performance
In its 2Q17 earnings conference call, Zoetis reiterated that it expects its year-over-year (or YoY) operational revenue growth in 2017 to fall in the range of 5.5% to 7.5%. However, owing to favorable foreign exchange fluctuations since May 2017, the company raised its projected range for 2017 to $5.15 billion to $5.25 billion. Further, based on its performance in 1H17, Zoetis has narrowed the range of its revenue guidance towards the higher end by around $25 million.
Article continues below advertisement
Increasing focus on direct-to-consumer marketing in the US and Brazil has played a pivotal role in driving demand for dermatology drugs Apoquel and Cytopoint in these markets. In 2Q17, Zoetis's dermatology portfolio reported revenues of around $102 million, making it the first quarter ever when this portfolio managed to cross the $100 million quarterly revenue milestone. Currently, Apoquel and Cytopoint are used to treat 55% of the dogs suffering from dermatology problems in the US, which is an improvement in market share as compared to 1Q17.
If Zoetis's dermatology portfolio continues to witness robust demand trends in 2H17, it may boost the company's stock prices as well as those of the iShares Core S&P 500 ETF (IVV). Zoetis makes up about 0.15% of IVV's total portfolio holdings.
Wall Street analysts have projected Zoetis's 2017 revenues to be around $5.2 billion, which is YoY growth of around 6.3%. In 2017, peers Merck (MRK), Eli Lilly (LLY), and Sanofi (SNY) are expected to report revenues close to $40.3 billion, $22.5 billion, and $42.2 billion, respectively.
Cytopoint commercial launch
Dermatology drug Cytopoint reported revenues close to $15 million in 2Q17. The rapid adoption of this drug in the US is expected to help boost confidence in the drug in European markets. The company has already conducted an early experience program for Cytopoint in Europe and expects to fully launch the drug in this market in September 2017.
In the next article, we'll discuss 2017 margin trends for Zoetis in greater detail.