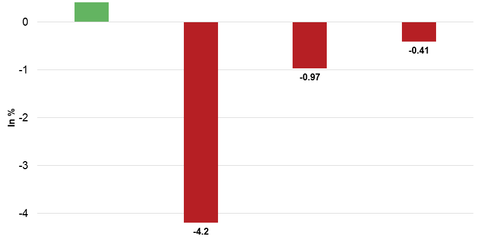 Delphi Automotive Announced Plan to Split into 2 Companies
By Val Kensington

Sep. 28 2017, Updated 10:07 a.m. ET
Delphi Automotive
Delphi Automotive (DLPH), which is one of the leading global technology suppliers for the automotive and commercial vehicle market, was the S&P 500's second-biggest loser on September 27, 2017.
After rising for two consecutive trading weeks, Delphi Automotive rose to a fresh record high price levels this week. However, the prices fell on Wednesday amid the announcement that Delphi Automotive will split into two companies by March 2018. Delphi Automotive will be split into "Aptiv" and "Delphi Technologies." After the split, Aptiv will focus on the electrical frame of vehicles, autonomous cars, and electronic safety technology. Delphi Technologies will focus on electric vehicle components, combustion engine parts, and software controls. Aptiv will trade under the ticker "APTV" and Delphi Technologies will retain the "DLPH" ticker.
Article continues below advertisement
According to Kevin Clark, Delphi Automotive's CEO, the two companies will run on their own after the split without seeking any buyers. Aptiv is expected to grow faster than the automobile market and generate an operating cash flow of $2 billion–$2.5 billion by 2020. Delphi Technologies is expected to generate an operating income of $700 million by 2020.
Delphi Automotive announced the collaboration with BlackBerry Limited to develop an operating system for Delphi Automotives self-driving technology. According to management, the collaboration also helps Delphi Automotive to counter the self-driving vehicles from cyberattacks. On September 27, Delphi Automotive fell 4.2% to $98.78—the lowest close in two weeks.