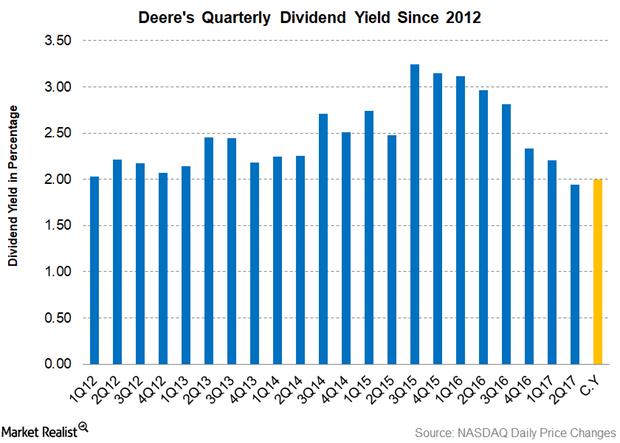 Did Deere's Dividend Growth Hamper Its Dividend Yield?
Deere's dividend yield
Investors looking for steady income from equities search for stocks with good dividend yield and good dividend growth. A dividend yield is a return that investors get for every dollar they invest in a company's equity.
With no changes in Deere's (DE) dividend rate, the company is expected to pay a dividend of $2.40 per share for fiscal 2017. As of September 18, 2017, Deere's current dividend yield stands at 2.0%. Peers Caterpillar (CAT), AGCO (AGCO), and CNH Industrials (CNHI) have a current dividend yield of 2.60%, 0.80%, and 1.0%, respectively. Deere's dividend yield has fallen since 3Q15 due to the lack of dividend growth and considerable growth in its stock price. If the trend continues, Deere might have to think about increasing the dividend to improve the dividend yield. At the end of 3Q15, Deere's dividend yield was at 3.25%. Currently, its dividend yield has fallen to 2.0%. During this period, Deere's stock price has risen from $74 to $119.89.
Although Deere's dividend yield is falling, its dividend is still better than its peers with the exception of Caterpillar (CAT). Deere's current dividend yield of 2.0% is still higher than the yield on one-year Treasury bonds. Deere is still an attractive option for long-term investors.
Article continues below advertisement
Dividend payout
Currently, Deere's dividend payout stands at 35.20%. Since 2015, the payout has been on an upward trend due to a decline in Deere's earnings per share. The dividend payout stood at 41.60% in 2015, while the dividend payout was at 49.90% in 2016. If the higher dividend payout continues, Deere will be left with less money for other financial activities.
Investors can hold Deere indirectly by investing in the First Trust Indxx Global Agriculture ETF (FTAG). FTAG has invested 6.10% of its portfolio in Deere as of September 18, 2017.
In the next part, we'll discuss analysts' latest views and recommendations for Deere.