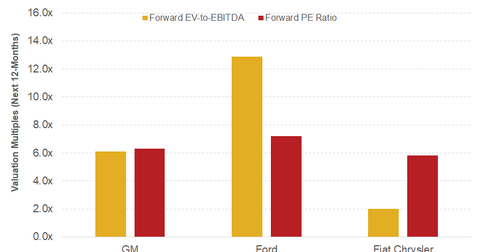 Comparing US Automakers' Valuations after August US Sales Data
By Jitendra Parashar

Updated
Wall Street analysts on US automakers
In the previous part of this series, we explored what Wall Street analysts are recommending for the two largest US auto companies, General Motors (GM) and Ford Motor (F). Currently, more analysts seem to be favoring a "buy" for GM. Recent improvements in GM's profitability and its increased efforts to focus on high-growth markets such as China could be some of the reasons for analysts' positive views on the stock.
Now let's compare the valuation multiples of these two US auto giants.
Article continues below advertisement
Comparing valuation multiples
As of September 6, 2017, GM's forward EV-to-EBITDA (enterprise value to earnings before interest, tax, depreciation, and amortization) multiple was 6.1x. That's much lower than Ford's, its direct competitor, at 12.9x.
Similarly, GM's forward PE (price-to-earnings) multiple was 6.3x, which was also lower than Ford's at 7.2x.
These valuation multiples are calculated based on the expected EBITDA of these automakers for the next 12 months.
Among all mainstream automakers (IYK), Fiat Chrysler (FCAU) had the lowest EV-to-EBITDA multiple of 2.0x and the lowest forward PE multiple of 5.8x. The valuation multiple of Italian luxury carmaker Ferrari (RACE) is typically much higher than legacy automakers. That could be because Ferrari's profit margins are significantly higher than legacy automakers with a lower risk profile.
Important factors
In the last couple of years, the US auto sector has witnessed good times with record high sales in 2016. However, for the first eight months of 2017, US auto sales have fallen 2.7% YoY (year-over-year). According to Autodata, US truck sales have risen 3.3% YoY so far in 2017. The higher demand for heavyweight vehicles could be the primary reason auto investors are keeping optimism alive.
Any near-term weakness in truck sales could lower US auto companies' future growth estimates and increase their risk profile. A higher risk profile typically leads to lower valuation multiples.
Next, we'll see how foreign automakers performed last month.