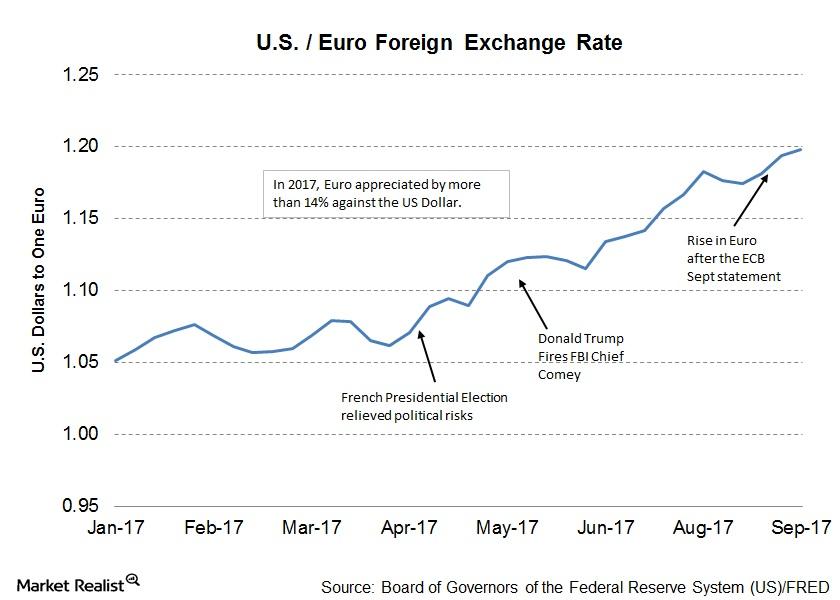 Can the ECB Stop the Appreciating Euro?
Euro news from the ECB's September meeting
In its September 7 policy meeting, the ECB (European Central Bank) said that currency appreciation or depreciation is not part of its mandate, but the inflation outlook had still been downgraded, given the sharp rise in the euro. ECB President Mario Draghi stated that the exchange rate impacted growth and inflation and was one of the key reasons that the inflation outlook was downgraded.
Draghi tried to downplay the euro by saying that the ECB must take exchange rate developments into account when deciding on any monetary actions. But the euro (FXE) has appreciated by more than 14% against the US dollar (UUP) in 2017 and is likely to appreciate further as the ECB prepares to taper its asset purchase program.
Article continues below advertisement
Market reaction to the ECB's September policy statement
Traders in the currency market disregarded Draghi's warning about the appreciating euro and drove the EUR–USD pair to a two-year high of 1.2094. Traders are focusing on the improving fundamentals of the European economy, and so it's likely that they're speculating on a tapering announcement to be made at the ECB's October meeting.
Can the ECB stop the rising euro?
Despite Draghi's strong attempt to talk down the euro (EUO) by highlighting the negative effects of a strong euro, traders rushed to buy the currency. Economic fundamentals in the EU are getting better and are likely to keep the strong momentum of euro (DRR) intact.
The ECB could try and limit the euro's assent, but if the economy continues to improve, chances are that the European currency will continue its rise in the near term. The ECB's October meeting is something that traders will, of course, be watching closely.
In the next and final part of this series, we'll analyze how European bond markets (GGOV) reacted to the ECB's most recent statement.