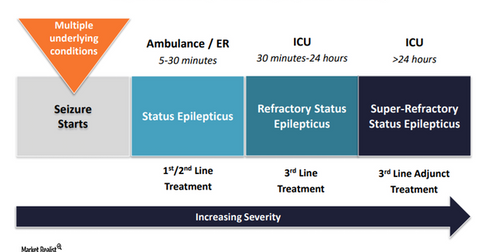 Brexanolone Could Strengthen Ligand's Neurology Portfolio
By Margaret Patrick

Updated
Brexanolone in SRSE
In October 2011, Sage Therapeutics (SAGE) entered a licensing agreement with Ligand Pharmaceuticals (LGND) to using Captisol technology in exchange for upfront research support and milestone payments for the former's Captisol-enabled drugs.
In 2Q17, Sage Therapeutics completed enrollment for its Phase 3 trial evaluating Captisol-enabled and intravenous formulation of allopregnanolone, Brexanolone, in super-refractory status epilepticus (or SRSE). It is the first ever, double blind, and randomized trial conducted in this indication and is being conducted across 180 international sites spread across the US, EU, Canada, and Israel. If Sage Therapeutics succeeds in reporting positive data from Brexanolone clinical trials, it may have a favorable impact on share prices of the company as well as those of Ligand Pharmaceuticals. The rise in Ligand Pharmaceuticals stock could prove beneficial for the iShares Nasdaq Biotechnology ETF (IBB). Ligand Pharmaceuticals makes up about 0.43% of IBB's total portfolio holdings.
The above diagram shows the increasing severity of SRSE, which may prove to be a fatal neurological emergency despite multiple lines of interventions. SRSE generally occurs after more than 24 hours of status epilepticus (or SE).
According to experts in the field, around 25% of SRSE patients return back to baseline, 35% may recover with some neurologic problems, while a staggering 40% die.
These statistics coupled with the lack of FDA-approved medication in this indication highlight the market opportunity available for Brexanolone.
Article continues below advertisement
Brexanolone in post-partum depression
Sage Therapeutics is also exploring Brexanolone in moderate and severe post-partum depression (or PPD) patients in two separate Phase 3 trials, Study 202b and 202c, as a part of the Hummingbird program. Data from these trials is anticipated in 2H17.
According to experts in the field, around 500,000 to 750,000 people in the US are annually diagnosed with PPD. Out of these, around 320,000 to 400,000 patients opt for therapy. These numbers highlight the addressable market size for Brexanolone. Brexanolone, however, may have to compete with Pfizer's (PFE) Zoloft and Eli Lilly's (LLY) Sarafem.
In the next article, we'll discuss the growth prospects of Ligand Pharmaceuticals' oncology assets in greater detail.