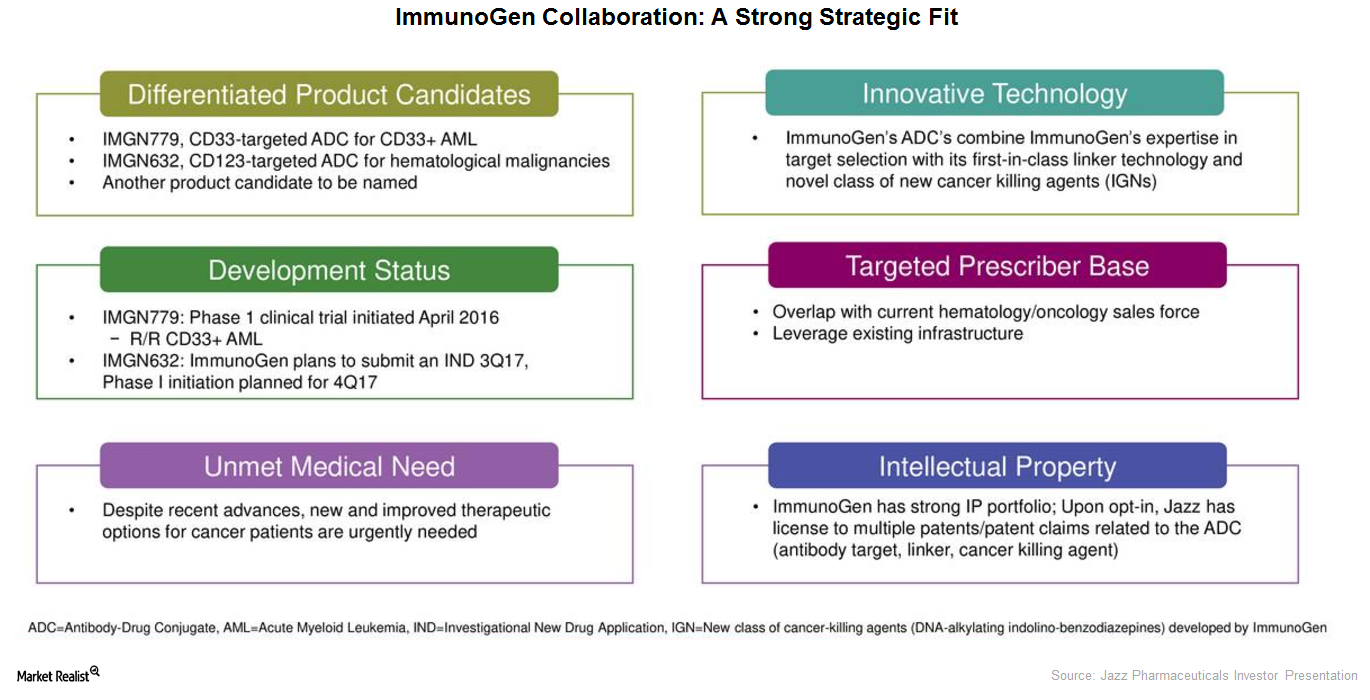 Behind Jazz's Strategic Collaboration with ImmunoGen
By Daniel Collins

Sep. 7 2017, Updated 4:35 p.m. ET
Jazz's collaboration with ImmunoGen
In August 2017, Jazz Pharmaceuticals (JAZZ) and ImmunoGen (IMGN) entered into a strategic collaboration and option agreement. The collaboration provides Jazz Pharmaceuticals exclusive worldwide rights to opt into the development and marketing of two early-stage, hematology-related ADC (antibody-drug conjugate) programs, and other future programs to be selected.
For programs that Jazz selects to opt into, ImmunoGen will receive milestone payments based on regulatory approvals of the appropriate products. ImmunoGen will also receive royalties as a percentage of market sales from Jazz.
By the terms of the agreement, both Jazz and ImmunoGen is entitled to share the costs related to the development and obtaining regulatory approval for the products in the US and the European Union.
Article continues below advertisement
Collaboration programs
The collaboration includes IMGN779, an investigational CD33-targeted ADC for the treatment of AML (acute myeloid leukemia), which is currently in a phase-1 clinical trial, and IMGN632, an investigational CD123-targeted ADC for hematological malignancies, which is anticipated to enter clinical trials by the end of 2017.
Jazz will pay ImmunoGen an advance payment of $75 million, and another $100 million over the next seven years, as development funding to support three ADC programs.
Notably, the American Cancer Society estimated that in the US, ~21,380 new cases of acute myeloid leukemia could be diagnosed in 2017, with around 10,590 deaths. Another study estimated that ~85%–90% patients with AML are CD33-positive. (CD-33 positive refers to the presence of CD33 antigen on more than ~20% to 25% of blasts from the marrow.)
IMGN779 is a humanized anti-CD33 antibody and is expected to help manage AML patients. The collaboration is expected to strengthen Jazz's oncology pipeline.
On September 1, 2017, the FDA (US Food and Drug Administration) approved Pfizer's (PFE) Mylotarg for the treatment of individuals with AML who are CD33 positive.
In the leukemia drug market, Jazz will compete with AbbVie (ABBV), Amgen, Astellas Pharma, Astex Pharmaceuticals, Celgene, and Agios Pharmaceuticals (AGIO). Notably, the Vanguard Health Care ETF (VHT) has ~0.24% of its total portfolio holdings in Jazz Pharmaceuticals.