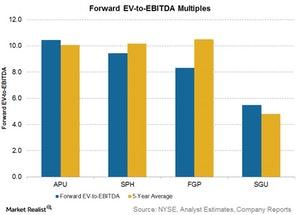 APU, FGP, and SPH: What Do the Current Valuations Indicate?
By Rekha Khandelwal, CFA

Sep. 11 2017, Updated 7:36 a.m. ET
Forward EV-to-EBITDA multiple
The forward EV-to-EBITDA[1. enterprise value to earnings before interest, tax, depreciation, and amortization] multiple is an important metric used in valuing MLPs. A lower ratio usually indicates undervaluation.
The forward EV-to-EBITDA ratios for AmeriGas Partners (APU), Suburban Propane Partners (SPH), Ferrellgas Partners (FGP), and Star Gas Partners (SGU) are 10.4x, 9.4x, 8.3x, and 5.5x, respectively.
Article continues below advertisement
Forward EV-to-EBITDA
The chart above compares the forward EV-to-EBITDA ratios for four MLPs. The historical average forward EV-to-EBITDA ratios for AmeriGas Partners and Star Gas Partners over the last five years are 10.1x and 4.8x, respectively. As a result, APU and SGU are trading above their historical valuations.
On the other hand, the historical average ratios for Ferrellgas Partners and Suburban Propane Partners are 10.5x and 10.2x, respectively. So, FGP and SPH are trading at a discount compared to their historical valuations.
Impact of general partner interests
The EV-to-EBITDA ratio can be deceptive when looking at the valuation of LP (limited partner) units of MLPs because the full EBITDA in the EV-to-EBITDA calculation may not be available to LPs. So, the EBITDA readings may be adjusted to reflect the interests of LPs.
Such an adjustment would increase the EV-to-EBITDA ratio for MLPs with IDRs (incentive distribution rights), as the EBITDA available to LPs would be reduced due to IDRs.
AmeriGas Partners' IDR structure allows its general partner to receive a greater percentage of total distribution for the amount by which the distribution to LP exceeds $0.605 per unit. APU's latest quarterly distribution is $0.95.
FGP's distributions have not yet reached the levels required to commence payment of IDRs. Suburban Propane Partners does not have IDRs. Star Gas Partners currently operates under a 90%–10% distribution split.
Next, we'll look at the recent changes in the short interest in the four propane MLPs.