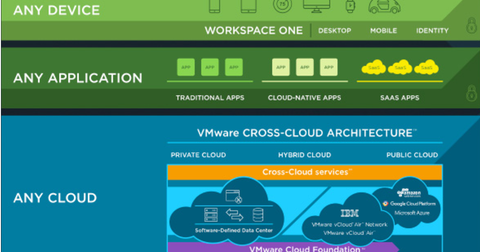 A Look at VMware's Hybrid Cloud Strategy
By Anne Shields

Updated
VMware's hybrid cloud strategy
So far in the series, we've discussed VMware's (VMW) fiscal 2Q18 results, its continued focus on strategic partnerships, and the hybrid cloud space.
In 2016, VMware laid the foundation of its hybrid cloud strategy by entering strategic partnerships with Amazon (AMZN), Microsoft (MSFT), Google (GOOG), and IBM (IBM). These tech giants collectively dominate more than half the cloud space.
Looking at the importance of funds, scale, and presence, VMware finally agreed to partnerships with these leading players. This was a more conservative action than launching and forging its offerings in a crowded, consolidated, and highly competitive public cloud space. Fujitsu, Fujitsu Cloud Service, DXC (DXC), and its Managed Cloud Services are the new partners in VMware's hybrid solutions.

Article continues below advertisement
Recently launched offerings
Going ahead with its hybrid cloud strategy, VMware launched a stack of tools VMworld. These tools are expected to help customers in managing their hybrid cloud:
VMware Discover provides insight across apps and services used in the public cloud and company's networks.
VMware AppDefense, as we discussed earlier in the series, reports any unusual changes in the state of the network.
VMware Network Insight normalizes network and security policies across apps in the on-site storage as well as on the hybrid public cloud.
VMware NSX Cloud supervises traffic across a defined data center and the cloud.