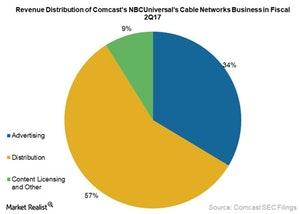 Will TV Networks Keep Raking In High Affiliate Fees?
By Shirley Pelts

Updated
Affiliate fees, a major source of revenues
Affiliate fees are another major source of revenues for companies like Comcast (CMCSA), Time Warner (TWX), and Viacom (VIAB). Comcast remains optimistic about its affiliate fees growth rate because many of its affiliate fee agreements had been renewed in 2017. Since 2017 is the first year of the renewal of its affiliate fees agreements—which are usually multi-year agreements—Comcast expects higher affiliate fees this year.
Article continues below advertisement
Viacom is also optimistic about its affiliate fees growth as the company has restructured its television networks portfolio to focus on five or six of its core television networks. Viacom stated in an earlier earnings call that it expects its affiliate revenues in both domestic and international territories to improve on a quarter-over-quarter basis.
As the above chart shows, affiliate fees are part of Comcast's distribution revenues. They made up 57% of Comcast's NBCUniversal's total Cable Networks' revenues of $2.7 billion in fiscal 2Q17.
Time Warner's affiliate fees outlook
Time Warner expects its Turner business to maintain the same rate of subscription revenue growth in 2H17 that it did in the first half of the year. For fiscal 2017, Time Warner expects its Turner business to see double-digit growth in affiliate fees.
Time Warner's optimism for affiliate fee growth stems from the fact that Time Warner believes its Turner network brands provide better value than The Walt Disney Company's (DIS) ESPN, for example.