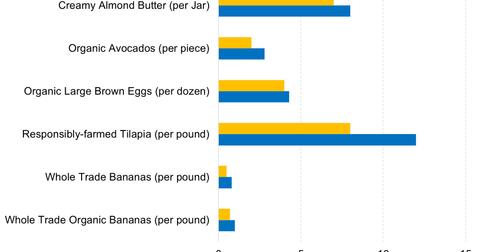 Will Amazon's Strategy of Cutting Grocery Prices Pay Off?
By Sanmit Amin

Updated
Amazon slashed Whole Foods' products on the first day
Amazon's (AMZN) acquisition of Whole Foods (WFM) closed on Monday, August 28. Amazon's first move was to slash grocery prices up to 43%, and as many as 100 products saw their prices fall 30% or more.
Discounted prices at Whole Foods could negatively impact companies like Costco (COST), whose strategy is to provide goods at a lower price. Traditional grocers saw their stocks tumble on Monday, and Sprouts Farmers Market (SFM) stock fell 10%.
Article continues below advertisement
How Amazon plans to profit from the price cuts
Amazon's action could trigger a price war, which could impact traditional grocers. Amazon can afford to cut prices given its size, but not all grocers can. It is uncertain whether the price cuts could significantly change consumer behavior.
Discounting popular items is not new to the e-commerce giant. Amazon has cut prices on best-selling items in the past. Whole Foods usually sells groceries at a higher price, with quality being the company's focus.
Amazon may choose to lose money in the short term in order to increase its presence in the grocery business in the long term. By acquiring Whole Foods, Amazon now has a brick-and-mortar presence all over the United States. The company could leverage its already colossal network to dominate its competition and make profits later on.