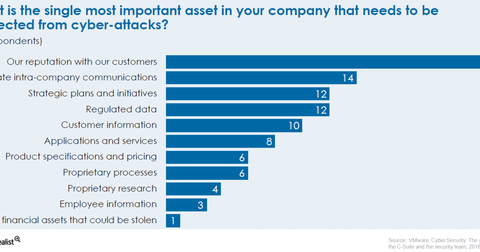 Why VMware Launched AppDefense Software
By Anne Shields

Sep. 1 2017, Updated 6:39 a.m. ET
AppDefense launched
During its annual VMworld tech conference on August 28, 2017, VMware (VMW) launched its newest offering, AppDefense software. VMware's AppDefense software is designed to protect a company's core virtualization software from malware, ransomware, and other threats.
Although VMware's NSX networking and virtual SAN (or vSAN) storage products have built-in security features, this is not the case with its VMs (virtual machines). Virtual machines form the basis of virtualization software. AppDefense is designed to run in VMs and guards against malignant code from running in VMs.
Article continues below advertisement
Sharing his thoughts on AppDefense's part in VMware's portfolio, Jon Oltsik, an analyst with ESG, noted, "VMware has said for years that if you use its products right you can improve security, but never really told people how." Oltsik added that AppDefense software would help these users in this respect.
Brand reputation
In 2016, VMware sponsored a global survey of 282 C-Suite executives, conducted by the Economist Intelligence Unit (or EIU). The survey results showed that their greatest current concern is the damage today's sophisticated cyberattacks could inflict on their companies. Brand reputation emerged as their top concern, as the chart above shows.
VMware's AppDefense aims to provide security to vSphere, which is used by organizations to stack multiple software applications on a single server.
VMware's vSphere leads the private cloud space, with 42% of respondents adopting it for private cloud deployments, as reported in the RightScale 2017 State of the Cloud Report. The launch of AppDefense is expected to strengthen VMware's presence in the private cloud space.