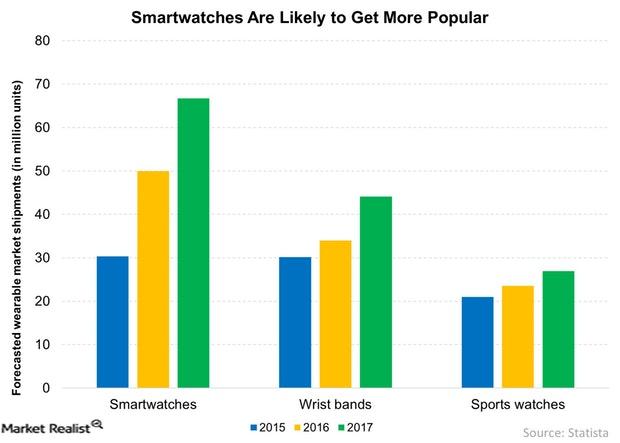 Why the Wearables Market Bubble Hasn't Burst Yet
By Sanmit Amin

Aug. 15 2017, Published 11:26 a.m. ET
Xiaomi is now the leader
While the wearables segment (WEAR) is struggling in the US, it's seeing growth globally, led by Chinese maker Xiaomi, which recently dethroned Fitbit as the market leader in the segment. The wearables market could soon be shifting focus from fitness bands to smartwatches.
The total worldwide wearables market grew 8% YoY (year-over-year) in 2Q17, according to Canalys. In 2Q17, Xiaomi shipped 3.7 million units, according to Strategy Analytics, while Fitbit (FIT) shipped 3.4 million units during the same period—a ~40% decline from the same quarter last year. Notably, Fitbit has a 15.7% market share in the wearables market, while Xiaomi now has a ~17% market share.
Article continues below advertisement
Xiaomi's very low prices have attracted customers
Fitbit now appears to be losing control over the market, as its products seem to be losing their appeal among customers. Meanwhile, Xiaomi has gained popularity, with its attractively priced prducts at ~$15, though its bands don't offer the array of features that some other products do.
Fitbit's lowest-priced band, the clip-on Zip, is priced at $60. But Fitbit expects to return to its positive growth trajectory through the launch of a smartwatch. Notably, Apple's (AAPL) Tim Cook recently mentioned in Apple's earnings call that Apple Watches saw 50% growth in unit sales on a YoY basis.