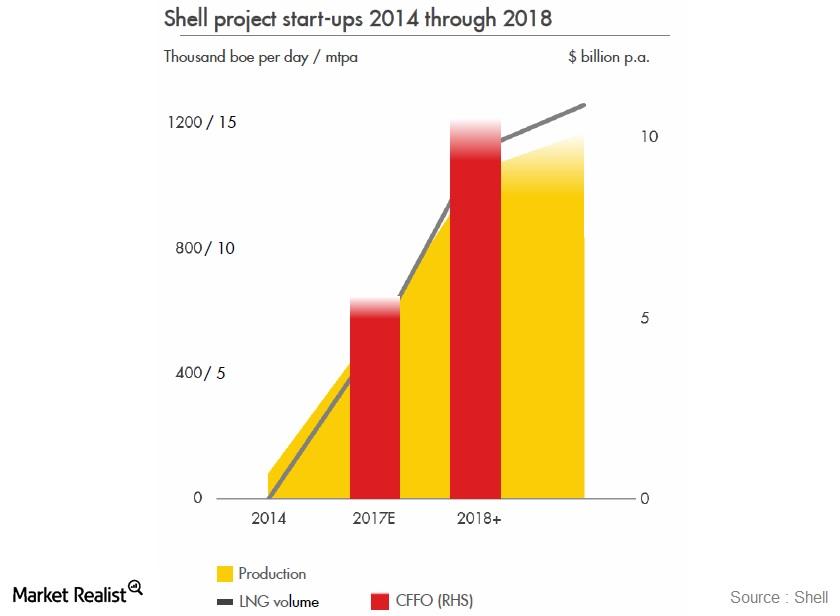 Why Shell Is Transforming Its Upstream Portfolio
By Maitali Ramkumar

Aug. 30 2017, Published 1:40 p.m. ET
Shell's upstream portfolio
Royal Dutch Shell (RDS.A) has consistently been re-churning its upstream assets to create a competitive portfolio. Shell has not only divested or canceled non-strategic projects but has also taken up new upstream projects. Let's look at the reshaping portfolio.
Article continues below advertisement
Divested projects
Shell has divested or canceled projects like Carmon Creek, Elba Liquefaction, Malaysia Dua JVA, and the Bab Sour Gas Reservoir. Also, Shell has divested oil sand assets in Canada and exited from its Motiva joint venture. Plus, Shell has announced that UK North Sea assets are being divested.
New projects
Shell has a series of projects that it expects to start up in 2017 and 2018. These include projects like Prelude, new FPSOs in Brazil pre-salt and the Permian, Clair phase 2, Schiehallion, and many others.
Plus, Shell (RDS.A) plans to increase production from its major projects this year. These are self-operated projects like BC-10 Phase 3, Farcados Yokri, Gbaran-Ubie Phase 2, Malikai, NA LRS, and Stones. Of the mentioned projects, BC-10 Phase 3 (Parque das Conchas) began operations in March 2016, and Stones began production in September 2016. Plus, Malikai started producing in December 2016. Recently, Gbaran-Ubie Phase 2 began production, which we discussed in the previous part.
Article continues below advertisement
Shell expects its new projects, which began in 2014, to contribute ~1 MMboepd by 2018. Also, they are expected to generate ~$10 billion of cash flows for the company. Shell produced 3.5 MMboepd (million barrel of oil equivalent per day) in 2Q17 from its worldwide operations. It's essential to consider that of the total production in 2Q17, 2.8 MMboepd, or 82%, was from operations outside North America.
Shell's proved reserves
Shell has a huge proved reserve base of 13.3 billion barrels of oil equivalent (or bboe). This reserve is expected to boost its upstream portfolio in years to come. BP (BP), ExxonMobil (XOM), and Chevron (CVX) hold reserves of 17.8 bboe, 19.8 bboe, and 11.1 bboe, respectively.
In the next article, we'll look at Shell's expanding downstream portfolio.