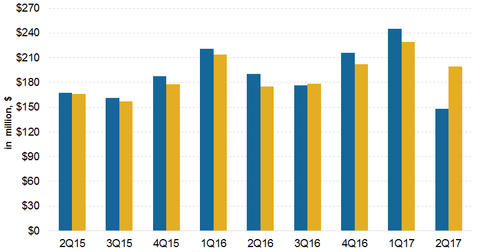 Why Boardwalk Pipeline Saw Rating Downgrades
By Kurt Gallon

Updated
BWP posted a 22.2% YoY EBITDA decline in 2Q17
Boardwalk Pipeline Partners (BWP) announced its quarterly earnings on July 31, 2017. BWP's EBITDA fell to $148 million in 2Q17 compared to $190.3 million in 2Q16, a YoY decline of 22.2%. Moreover, the partnership missed its 2Q17 EBITDA estimate by 25.8%.
The huge decline in BWP's 2Q17 EBITDA was mainly driven by the sale of its interest in the Flag City processing plant. The partnership recorded $47.1 million of losses and impairment charges in relation to the asset sale in the recent quarter. According to the 2Q17 earnings release, "Excluding the impact of the Flag City sale, EBITDA would have been $195.1 million and $441.3 million for the quarter and six months ended June 30, 2017."
Article continues below advertisement
BWP downgraded after 2Q17 earnings
RBC Capital downgraded BWP from "outperform" to "sector perform," which is equivalent to "hold," after its 2Q17 earnings release. Now, 58.4% of analysts rate BWP a "buy," 33.3% rate it a "hold," and the remaining 8.3% rate it a "sell" as of August 7. BWP's average target price of $20.6 implies a 31.2% return from its current price levels. BWP's short-term outlook looks bleak considering its flat distribution, declining earnings, high leverage, and the expiration of certain firm reservation contracts in the next two years. However, the partnership is expected to benefit from its strong natural gas expansion opportunities in the long run.