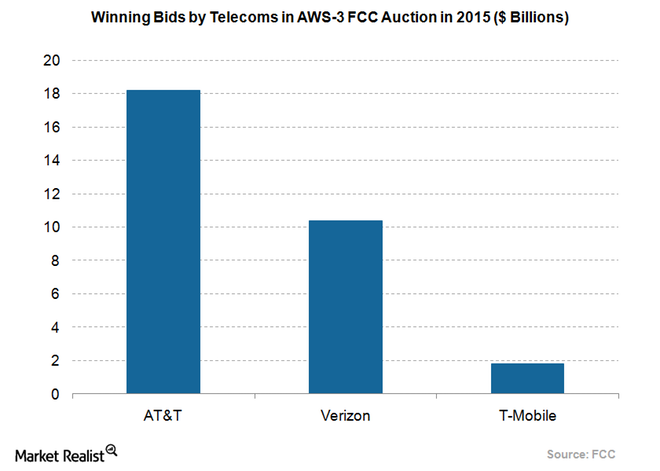 What Are Sprint's 5G Plans?
Sprint on 5G
5G (fifth-generation) technology is creating a lot of interest in the telecommunications arena. Wireless data speeds are expected to speed up ten to 100 times compared to 4G (fourth-generation) technology. Sprint's (S) management is confident that its 2.5 GHz spectrum will perform like low­band spectrum in 5G builds. It plans to launch its commercial 5G services and devices by the end of 2019. Sprint anticipates being more aggressive with its 5G build-out as standards are set and finalized.
Article continues below advertisement
During Sprint's recent fiscal 1Q17 (quarter ending June 2017) earnings conference call, Sprint's management stated that Sprint's 5G pursuit includes partnering with China Mobile, SoftBank, Qualcomm, and others to roll out massive MIMO (multiple input, multiple output). Also, the company anticipates making 2.5 GHz a key band in global 5G deployment.
AT&T is an aggressive player in the 5G market
AT&T (T) is a formidable player in the 5G space. It continuously strives to get ahead of the curve by aiming to gain spectrum advantage. During the AWS-3 spectrum auction, which was held in early 2015, AT&T bagged spectrum worth $18.2 billion and was the highest bidder.
Post-2008, the AWS-3 spectrum auction, which was conducted by the FCC (Federal Communications Commission), happens to be an extensive auction. As demonstrated in the above graph, other telecom players like Verizon (VZ) and T-Mobile (TMUS) as well participated in the AWS-3 spectrum auction sealing deals worth $10.4 billion and $1.8 billion, respectively.