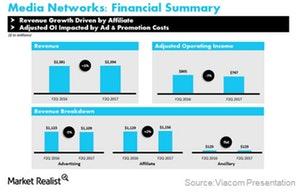 Understanding Viacom's Challenge of Higher Affiliate Fees
By Shirley Pelts

Updated
Affiliate fees outlook for Viacom
Viacom (VIAB) earns the majority of its revenues through affiliate fees. Affiliate fees are carriage fees paid by pay-TV operators like DISH Network (DISH) to media companies like Viacom for carrying their linear television networks.
Viacom has restructured its television networks portfolio to focus on five or six of its core television networks. As a result, the company continues to be optimistic about its affiliate revenues for fiscal 3Q17. (Viacom's fiscal 3Q17 ends at the end of calendar 2Q17.)
Viacom stated in its fiscal 2Q17 earnings call that it expects its affiliate revenues in both domestic and international territories to improve on a quarter-over-quarter basis. Viacom also admitted that it had seen a declining trend when it comes to subscribers of pay-TV operators.
Viacom has also changed its strategy when it comes to the carriage of its networks by offering its networks in three tiers. The first tier consists of the company's flagship brands, and the second tier consists of Viacom's widely distributed networks like MTV, VH1, and TV Land.
Article continues below advertisement
The third carriage tier
The third carriage tier category for Viacom includes networks that can be widely distributed digitally. The company currently also has a carriage deal with two pay-TV operators in the United States (SPY), which includes Viacom's offer of more targeted advertising capabilities.
With this tiering of its networks, Viacom is offering pay-TV operators the flexibility of bundling networks into appropriate pay-TV packages. As a result, the company expects that even in the changing pay-TV environment, its affiliate revenues will continue to rise due to its business strategy.
In fiscal 2Q17, Viacom's Media Networks had affiliate fees of $1.2 billion—a rise of 2% year-over-year.
Affiliate fees outlook
Time Warner (TWX) is another company that is optimistic when it comes to its affiliate revenues. Its Turner business expects double-digit growth in affiliate fees. A major reason for this optimism is that the company believes that its network brands provide a better value-for-money than offerings like Walt Disney's (DIS) ESPN.