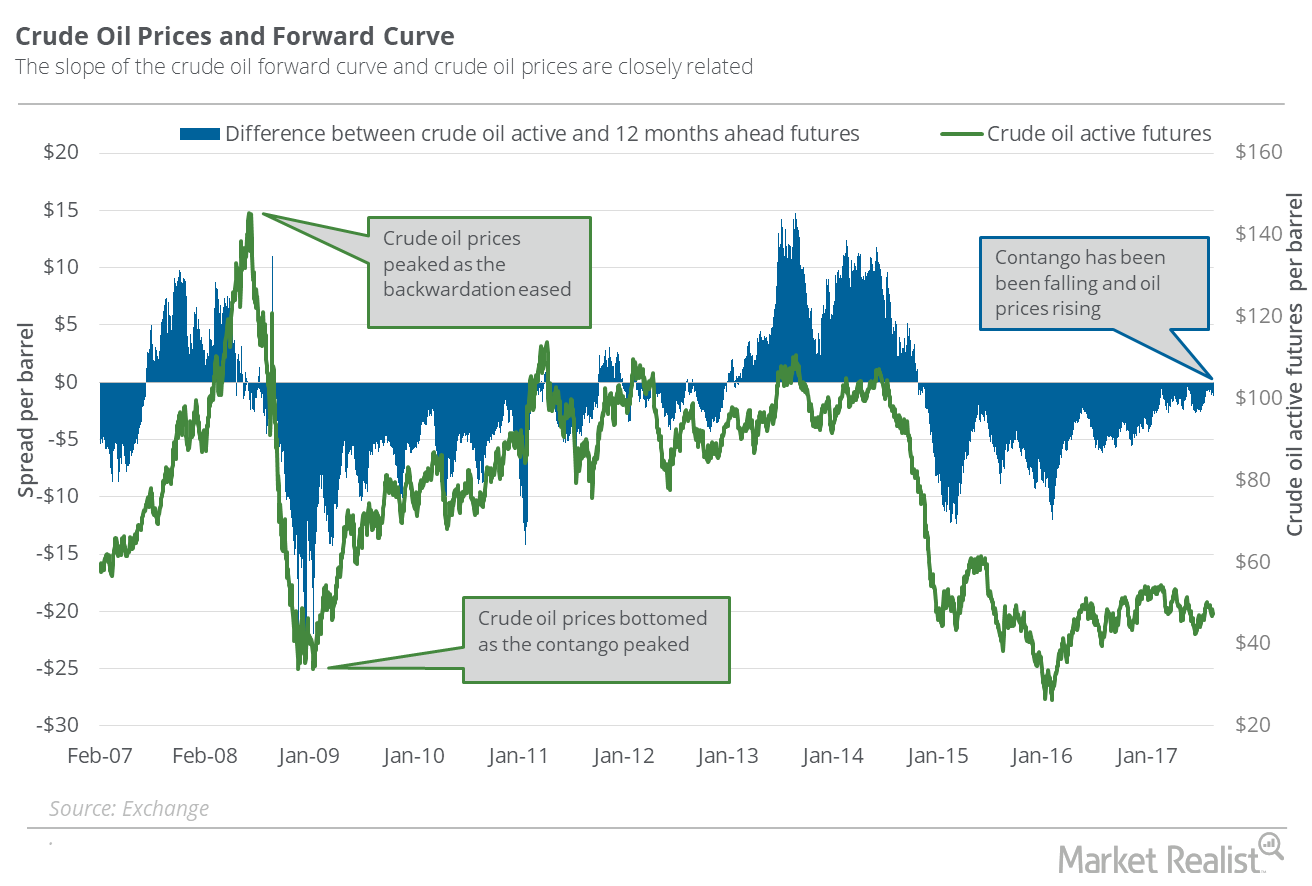 Understanding the Futures Spread: Is Oil Supply Outpacing Demand?
By Rabindra Samanta

Aug. 23 2017, Updated 4:06 p.m. ET
The oil futures spread
Article continues below advertisement
Oil prices during contango
When the futures spread is at a premium as it was on August 22, 2017, oil futures are considered to be in "contango." When the premium rises, usually oil prices fall. For example, US crude oil active futures plunged to a 12-year low on February 11, 2016. At that time, the premium was above $12.
Oil prices during backwardation
During "backwardation," which is the opposite of contango, the futures spread shifts to a discount. When the discount expands, usually oil prices move upward. For example, US crude oil active futures closed at a pre-crisis high of $107.26 per barrel on June 20, 2014. On the same day, the discount was above $10.
So, the oil futures spread could be crucial in understanding oil demand-supply dynamics. In the trailing week, US crude oil October futures rose slightly. But during this time period, contango also expanded, which could indicate that supply is still outpacing demand.
Energy stocks
Midstream companies' (AMLP) oil storage and transportation businesses as well as US crude oil producers' (XOP) (DRIP) hedging decisions could be impacted by the shape of the oil futures forward curve. During contango, stockpiles could rise as US oil producers store their current production and hope to sell it at a higher rate in the future.
Futures prices until December 2025 are now trading progressively higher than current US crude oil active futures. Notably, during contango, investors can be disappointed by oil-tracking ETF like the United States Oil Fund LP (USO).