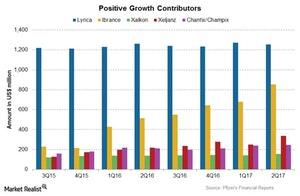 Pfizer's Major Growth Drivers in 2Q17
By Mike Benson

Aug. 14 2017, Updated 10:37 a.m. ET
Understanding growth contributors
Pfizer's (PFE) growth contributors include products from both the innovative health and essential health businesses. The key performers in the product portfolio include Lyrica, Ibrance, Xalkori, Xtandi, Xeljanz, and Eliquis from the Innovative Health business.
Article continues below advertisement
Performance of growth contributors
The following products contributed to Pfizer's positive growth in 2Q17.
Ibrance, the new blockbuster drug to treat advanced breast cancer, launched in February 2015 and reported 67% growth in revenues at $853 million in 2Q17, compared to $514 million in 2Q16. The growth was due to strong response from healthcare practitioners. US markets reported Ibrance sales of ~$727 million in 2Q17, compared to $502 million in 2Q16.
Xalkori and Xeljanz achieved sales of $155 million and $336 million, respectively, in 2Q17. Xalkori reported growth of 15% in operating revenues while Xeljanz reported growth of 56% in operating revenues in 2Q17.
Chantix/Champix's revenues rose 17% to $248 million in 2Q17, compared to $213 million in 2Q16.
Medrol and Sulperazon sterile injectable products reported revenue growth of 8% to $123 million and 10% to $110 million, respectively, in 2Q17.
Lyrica recorded flat revenues at $1.25 billion in 2Q17, compared to $1.26 billion in 2Q16, mainly due to a 5% increase in sales of Lyrica IH offset by a 25% decrease in sales of Lyrica EH. Lyrica EH includes revenues from Europe, Turkey, Russia, Israel, and Central Asia while Lyrica IH includes revenues from the rest of the world.
Alliance revenues rose ~92% at $715 million in 2Q17, compared to $376 million in 2Q16. Alliance revenues include revenues from Eliques and Xtandi.
The iShares US Healthcare ETF (IYH) invests 6.3% of its total assets in Pfizer (PFE). IYH also invests 11.3% of its portfolio in Johnson & Johnson (JNJ), 4.1% in Amgen (AMGN), and 2.7% in Abbott Laboratories (ABT).