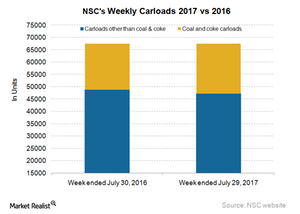 Norfolk Southern: Railcars Derailed but Intermodal Rose
By Samuel Prince

Updated
Norfolk Southern's railcars
Norfolk Southern (NSC) and CSX (CSX) are two major freight rails operating in the Eastern United States. In the week ended July 29, 2017, Norfolk Southern posted almost flat railcar volumes of 67,500 units compared with the corresponding week of 2016.
While the carloads other than coal and coke fell 3.5%, the coal carloads gained 8.5% in week 30 of 2017. NSC's other than coal and coke volumes were 47,000 plus railcars compared with ~49,000 railcars in the same week last year. The coal and coke volumes increased from 19,000 railcars to above 20,000 railcars in the reported week of 2017. Norfolk Southern's slight contraction in railcar volumes was in accordance with a 1.5% average decline recorded by US railroads during the week.
Article continues below advertisement
Change in NSC's commodity groups
In the 30th week of 2017, Norfolk Southern reported a rise in volumes of metals and products; nonmetallic minerals; stone, clay, and glass products; and grains. On the other hand, chemicals (DOW), crushed stone, sand and gravel, food and kindred products (ADM), and motor vehicles (TSLA) posted a decline in shipments.
NSC's intermodal traffic in week 30
For Norfolk Southern, unlike railcars, intermodal traffic witnessed growth in week 30. The company's intermodal volumes were up 8.2% to over 83,000 containers and trailers compared with over 75,000 units in the 30th week of 2016. NSC's container volumes were up 7.7% to 74,000 plus against ~69,000 containers last year. Trailers posted a 13.5% rise in volumes to 7,000 plus in the reported week.
In the first 30 weeks of 2017, NSC's container volumes were up 4% to 2.1 million units on a year-over-year basis. The trailer traffic was up 14.7% during the same timeframe to 0.2 million trailers.