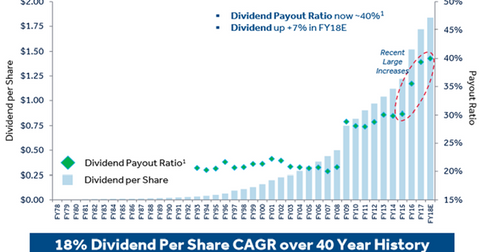 Medtronic's Capital Deployment Strategy and Dividend Announcement
By Sarah Collins

Updated
Medtronic's capital allocation strategy
Share repurchases and dividend payments are the primary means of Medtronic's (MDT) capital deployment strategy to return capital to its shareholders. The company took part in one of the largest acquisitions in the medical device industry in the US with the 2015 Covidien acquisition, but it was able to pay increasing dividends, buy back shares, and return value to its shareholders.
Article continues below advertisement
Share buybacks
Medtronic (MDT) repurchased a net $1.1 billion of its ordinary shares in fiscal 1Q18. The buyback concluded Medtronic's commitment, which it announced in January 2016, to return $5 billion to its shareholders through share repurchases by fiscal 2018.
The average daily shares outstanding for fiscal 1Q18 total ~1.4 billion shares. However, the company expects its shares to fall in fiscal 2Q18 and then stay flat due to Medtronic's tendency to repurchase shares earlier each fiscal year.
Recent dividend announcement
On August 25, 2017, Medtronic announced the cash dividend payment of $0.46 per share for fiscal 2Q18. This dividend would be payable on October 20, 2017, to shareholders of record on September 29, 2017. The dividend payment represents 7% growth from the quarterly dividend payments of $0.43 per share in the previous fiscal year.
On August 29, 2017, the dividend yield of Medtronic (MDT) stood at 2.3%. Peers Stryker (SYK), Abbott Laboratories (ABT), and Baxter International (BAX) have dividend yields of 1.2%, 2.1%, and 1.0%, respectively. Medtronic has paid consistently increasing dividends to its shareholders for the past 40 years.
MDT is a constituent of the S&P 500 Dividend Aristocrats, covering companies that have paid consistently increasing dividends to their shareholders for a minimum of the last 25 years.
Investors can consider the Vanguard Dividend Appreciation ETF (VIG), which holds ~3.1% of its total portfolio in MDT.
In the final part of this series, we'll discuss Medtronic's updated fiscal 2018 guidance.