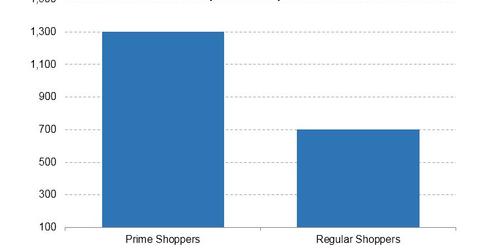 Making Sense of Amazon's Logistics Venture
By Neha Gupta

Updated
Shipping expenses up 36%
There is more to Amazon's (AMZN) logistics venture than the potential for additional revenues from contract deliveries. Controlling the delivery system and driving down operating costs are also at the center of Amazon's logistics venture.
In terms of operating costs, Amazon's shipping expenses increased 36% to $4.6 billion in 2Q17. As a result of this increase, shipping costs wiped out a significant portion of the revenues Amazon generated through third-party seller services that include order fulfillment.
Overall, Amazon's operating expenses increased more than 28% to $37.3 billion, cutting deeply into the company's total revenues of $38 billion.
Article continues below advertisement
Delivery speed redefining retail competition
As traditional retailers such as Walmart (WMT) and Target (TGT) have embraced e-commerce, retail competition is shifting from the convenience of shopping to delivery speeds. Retail giants such as Amazon, eBay (EBAY), and Walmart are trying to woo shoppers with rapid order fulfillment and delivery.
Amazon recently told booksellers on its marketplace that delivery speed influences consumers' shopping decisions.
Eliminating shipping delays
As rapid delivery has become a key element of retail competition, Amazon can run a more efficient retail operation system by taking complete control of its delivery system. For example, running its own delivery system can allow Amazon to eliminate shipping delays arising from third-party shipping providers such as United Parcel Service (UPS) and FedEx (FDX).
Amazon can take advantage of its robust in-house delivery system to make its Prime loyalty program more attractive, such as increasing the number of qualifying items. As illustrated in the chart above, Prime customers typically spend significantly more on Amazon.com purchases than regular shoppers do.