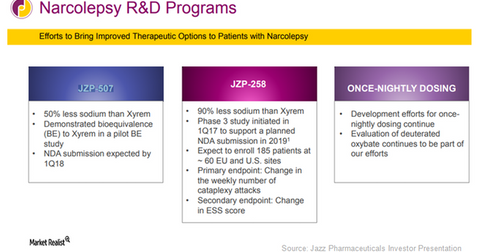 The Future of JAZZ's Low-Sodium Investigational Drugs
By Margaret Patrick

Aug. 22 2017, Updated 10:36 a.m. ET
Low-sodium investigational drugs
According to American Medical Association's guidelines, daily intake of sodium should be restricted to 2,400 mg (milligrams) per person. Since sodium has been associated with increased incidence of coronary heart diseases and stroke, the American Heart Association's recent guidance has reduced the recommended daily sodium intake to 1,500 mg per person.
The majority of Jazz Pharmaceuticals' (JAZZ) Xyrem-targeted adult patient population is between 40 to 64 years old. The cardiovascular comorbidity rate in this age group has been around 77%. For this reason, a 9-mg dose of Xyrem, which contains 1,640 mg of sodium, has caused physicians to be reluctant to prescribe the drug to ~20% of their patients.
JAZZ thus aims to introduce low-sodium versions of Xyrem, JZP-507, and JZP-508 for narcolepsy patients suffering for excessive daytime sleepiness and cataplexy attacks. JZP-507 has 50% less sodium than Xyrem, while JZP-508 has 90% less sodium than Xyrem.
The above narcolepsy R&D (research and development) programs planned by JAZZ in 2017 are expected to help the company pose tough competition to narcolepsy players like Teva Pharmaceuticals (TEVA), Mylan (MYL), and Allergan (AGN).
Beyond the low-sodium versions of Xyrem, JAZZ is also involved in developing a once-nightly dosing regimen for narcolepsy patients.
Article continues below advertisement
Reduced generic threat
JAZZ may see patients switch from Xyrem to low-sodium JZP-507 and JZP-508, which could limit revenue losses stemming from generic erosion. As JAZZ's settlement with Hikma Pharmaceuticals is only restricted to Xyrem (and none of its other investigational drugs), JAZZ will still be the sole beneficiary of all these research programs. But if the total revenues of Xyrem fall significantly, Hikma may launch its generic drugs before 2023.
Notably, the iShares US Pharmaceuticals ETF (IHE) has ~2.5% of its total portfolio holdings in JAZZ.
In the next part of this series, we'll discuss Jazz Pharmaceuticals' JZP-110 in greater detail.