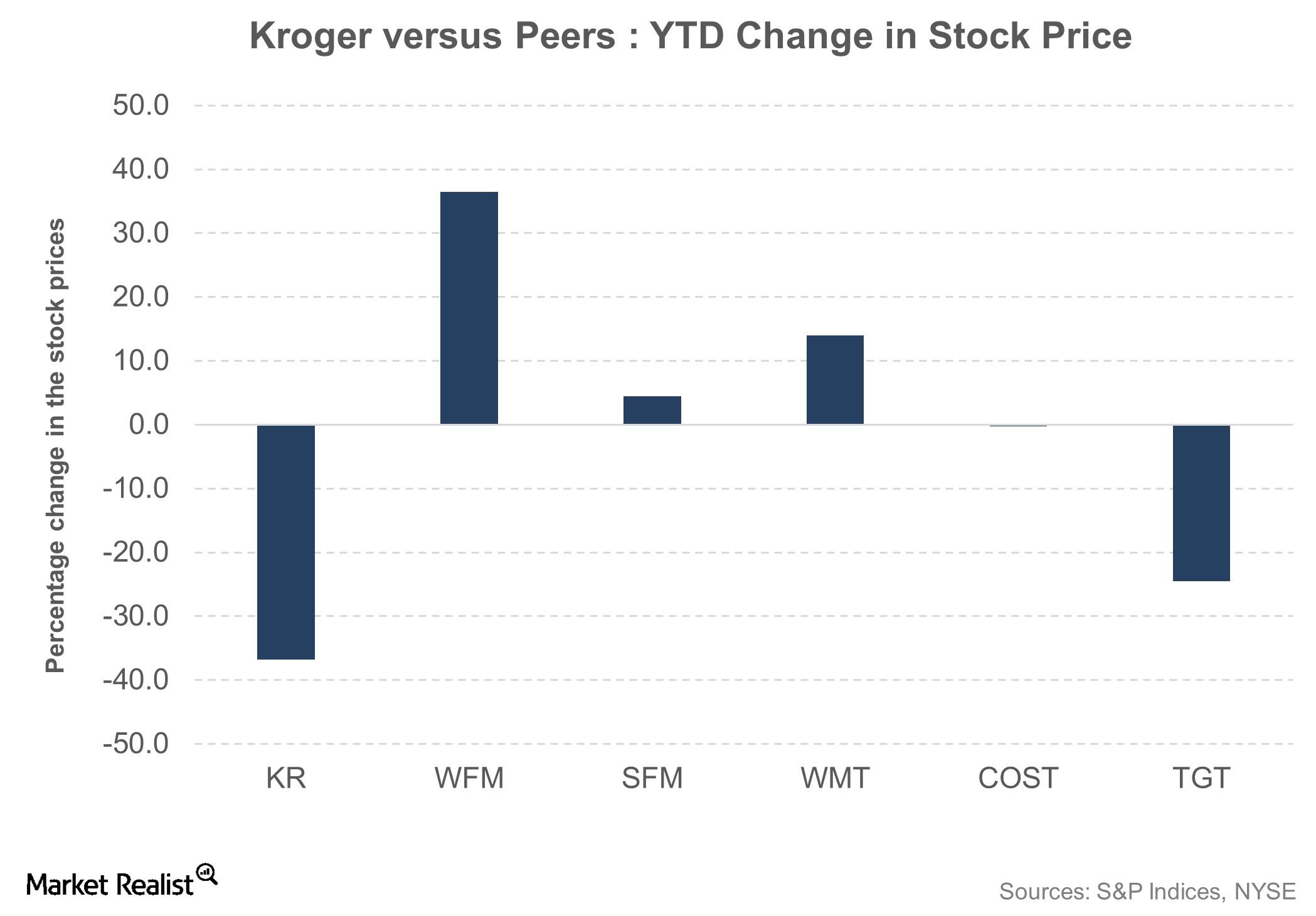 Kroger Stock Has Lost More than One-Third of Its Value this Year
Comparing Kroger's stock market performance with peers
A challenging retail environment, continuous and rising competition, and Kroger's inability to drive sales comps and earnings growth have weighed down on the grocer's stock market performance.
The company is among this year's worst-performing food retailing stocks, with YTD (year-to-date) losses of ~37%. In comparison, organic and natural food players Whole Foods (WFM) and Sprouts Farmers Market (SFM) have gained 36.5% and 4.5%, respectively, to date.
Mass merchandiser Walmart (WMT) is up 14% YTD while Costco (COST) and Target (TGT) have plunged 0.2% and 24.5%, respectively.
Article continues below advertisement
A look at Kroger's dividend yields
Kroger is a consistent dividend payer. Its stock offers a one-year forward dividend yield of 2.4%, which is in line with other dividend paying food retailers. Whole Foods, Walmart, and Costco have dividend yields of 1.5%, 2.6%, and 1.5%, respectively.
Valuations
Kroger is currently trading at a one-year forward price-to-earnings ratio (or PE) of 10.8x. It's operating at the lower end of its 52-week PE range of 10.5x to 16.8x. The company is also trading below its three-year average PE ratio of 16x.
Kroger is currently cheaper than most of its supermarket peers as well as big-box competitors. Natural and organic food players Whole Foods Market and Sprouts Farmers Market trade at 31.3x and 20.2x, respectively, while mass-merchandizers Walmart and Costco trade at 17.5x and 24.5x, respectively.
Investors looking for exposure to Kroger through ETFs can choose to invest in the First Trust Consumer Staples AlphaDEX Fund (FXG). KR has a weight of approximately 3.4% in FXG.
Read on to the next part of this series to learn about Wall Street's recommendations for Kroger.