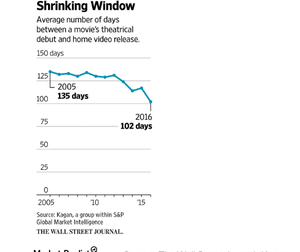 Is Comcast Looking at a Premium Movie-on-Demand Service?
By Shirley Pelts

Updated
Comcast could be looking at a premium movie-on-demand service
The news about premium video-on-demand services refuses to die down. According to a Bloomberg report from August 18, 2017, citing unknown sources, Hollywood studios Time Warner's (TWX) Warner Bros. and Comcast's (CMCSA) Universal Pictures are in discussions with Apple (AAPL) and Comcast to offer digital movie rentals on demand in a time frame of only a few weeks after the release of a movie. Universal Pictures is part of Comcast's NBCUniversal business. According to the report, Hollywood studios are pushing forward with the discussions, even though movie theater chains have been opposed to the move.
The report also stated that Hollywood studios were also considering a revenue-sharing arrangement with theater chains, but it was rejected since theaters have asked for a revenue-sharing arrangement for ten years.
According to a Wall Street Journal report earlier this year, the movie viewing window is shrinking. The time between a movie's release in theaters and its availability for home viewing is shrinking and was 102 days in 2016.
Article continues below advertisement
Comcast's Filmed Entertainment business is following a franchise-focused strategy that's paying off for the company. Comcast's movie The Fate of the Furious from its Fast and the Furious franchise has become the sixth movie in history to earn in excess of $1.0 billion at the international box office.
The company's Filmed Entertainment business had revenues of $2.1 billion in fiscal 2Q17, a rise of 60.0% YoY (year-over-year), and an adjusted EBITDA (earnings before interest, tax, depreciation, and amortization) of $285.0 million.
Time Warner is also contemplating premium video-on-demand service
Time Warner is another company that's looking at a premium video-on-demand service. It believes that the premium video-on-demand model would be beneficial for both movie studios and theater owners since the service would offer viewers flexibility to view movies whenever they want and would create more excitement for the movies.