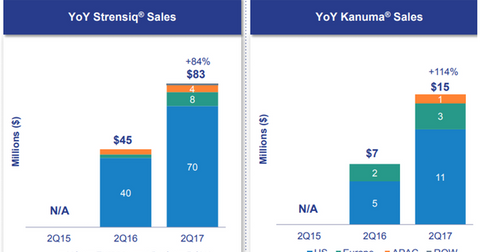 New Patients and Alexion Pharmaceuticals' Metabolic Franchise
By Margaret Patrick

Updated
Metabolic franchise
In its 2Q17 earnings conference call, Alexion Pharmaceuticals (ALXN) reiterated its 2017 revenue guidance of $375.0 million–$400.0 million for its metabolic franchise. In 2Q17, the hypophosphatasia drug Strensiq reported revenues of $83.0 million, while Kanuma, the lysosomal acid lipase deficiency (or LAL-D) drug, reported revenues of $15.0 million. Both drugs witnessed a positive impact of new patient starts in previous quarters as well as in 2Q17.
Article continues below advertisement
While demand for Kanuma continues to be lower than expected, Alexion Pharmaceuticals has not yet recorded any impairment to the drug's carrying value on the balance sheet. However, if Kanuma sales don't pick up in the future quarters, it may have a negative impact on Alexion Pharmaceuticals stock as well as the stock of the iShares Nasdaq Biotechnology (IBB). Alexion Pharmaceuticals makes up about 5.0% of IBB's total portfolio holdings.
The above diagram shows quarterly sales of Strensiq and Kanuma across various geographical markets.
Strensiq's performance
Alexion Pharmaceuticals had projected lower revenue per patient for Strensiq in the first half of 2017 due to pricing headwinds as well as younger HPP (hypophosphatasia) patients starting treatment. However, these factors did not play a very significant role in Strensiq's revenue performance in 2Q17. New patients continued to be identified in the United States, Japan, and Germany.
In July 2017, Alexion Pharmaceuticals entered into a national funding agreement with the National Institute for Health and Care Excellence (or NICE) and NHS England, which has expanded access to Strensiq for pediatric-onset HPP patients in England. Alexion Pharmaceuticals is also actively engaging with payers to reduce access constraints for those HPP patients who are prescribed higher doses of Strensiq. Since these negotiations have not concluded yet, the company anticipates lower sequential revenue growth for the drug in 3Q17. However, in 4Q17, the sequential revenue growth rate for Strensiq is expected to resume to levels witnessed in the second half of 2016.
Strensiq is expected to play a major role in enabling Alexion Pharmaceuticals to create shareholder value while competing with other rare disease players such as Vertex Pharmaceuticals (VRTX), United Therapeutics (UTHR), and Bioverativ (BIVV).