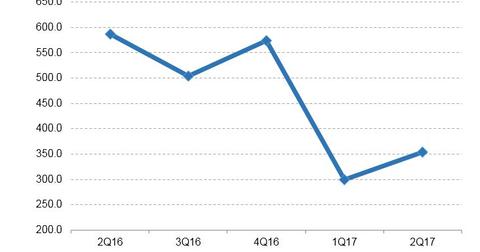 How to Judge Fitbit's Performance
By Ruchi Gupta

Nov. 20 2020, Updated 9:58 p.m. ET
Shares jump in response to earnings release
For a company that continued to post losses—and whose sales plunged nearly 40%—declaring that Fitbit (FIT) delivered strong results for 2Q17 will likely elicit mixed reactions. But Fitbit shares rose soon after the news of its 2Q17 results—an indication that some investors liked what they saw or, at least, heard about the company's performance (QQQ) (XLK).
Fitbit's 2Q17 scorecard was either disappointing or inspiring, depending on whether you hold it against the consensus estimate or its 2Q16 results.
Article continues below advertisement
Revenue down 40%
If compared with 2Q16, Fitbit's 2Q17 results disappointed. The company reported sales of $353.3 million, which was down nearly 40% from the same period last year. Its adjusted EPS (earning per share) loss of $0.08 in 2Q17 was a far cry from its EPS profit of $0.12 in 2Q16.
Though its earnings results in 2Q17 were feeble on a YoY (year-over-year) basis, Fitbit managed to surpass expectations on both sales and earnings fronts. Many investors took note of this and lifted the stock's value. Meanwhile, Fitbit's management seems optimistic about the future.
Strong demand lifts prices
Fitbit CEO (chief executive officer) James Park stated that demand for the company's products in 2Q17 was stronger than what they'd anticipated going into the quarter. The strong demand environment led to higher ASP (average selling price) for Fitbit's products. The company said that its ASP rose 4% sequentially and 2% YoY in 2Q17.
But Fitbit continues to face tough competition in the fitness tracker market, with Apple (AAPL), Xiaomi, Garmin (GRMN), and Microsoft (MSFT) not giving Fitbit much peace in fitness tracker gadgets.