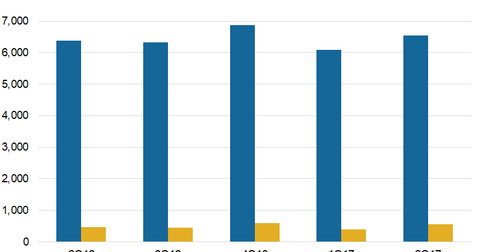 How NetJets, Financials Could Contribute to Berkshire's Services
By Robert Karr

Aug. 30 2017, Updated 8:07 a.m. ET
Services and retailing
Berkshire Hathaway's (BRK.B) Services and Retail divisions have stakes in housing finance, financial services, electronics, jet services, media, and logistics. But the company hasn't made any big acquisition in these sectors in recent quarters.
Still, it can continue to add businesses when profitable options emerge. In 2Q17, Berkshire's services managed to post growth of 8% and revenues of nearly $6.6 billion, compared with nearly $6.4 billion in 2Q16. This growth came mainly due to higher traction in NetJets and TTI, its electronic equipment company.
Berkshire's core Services division has seen slower growth over the past year, mainly due to subdued growth in housing finance, media, financial services, and logistics. The overall division posted EBT (earnings before tax) of $555 million, compared with $457 million one year ago.
Article continues below advertisement
Berkshire's Services managed revenues of nearly $2.8 billion, while Retail managed nearly $3.8 billion, reflecting growth across the divisions. The company's major peers include asset managers (XLF) Blackstone (BX), BlackRock (BLK), and Carlyle (CG), which have also invested significant funds toward services in the US. The major portion of funds is getting deployed in the areas of financial technology, information technology, and automation.
Amazon-like models thriving
Among retailers, Berkshire's hasn't made any huge investments or bought businesses with online platforms like Amazon.com (AMZN). The company's retail business includes the auto dealerships, the jewelry retailing business, home furnishing business, kitchen tools, trading companies, and motorcycle accessories.
Second quarter revenues were weaker, mainly due to lower revenues from Berkshire Hathaway Automotive or BHA, partly offset by increased revenues from Pampered Chef, home furnishings retailers, and See's Candies. Pre-tax earnings for the Retail division rose 27%, mainly due to higher margins in dealerships, kitchen tools, and confectionery products.