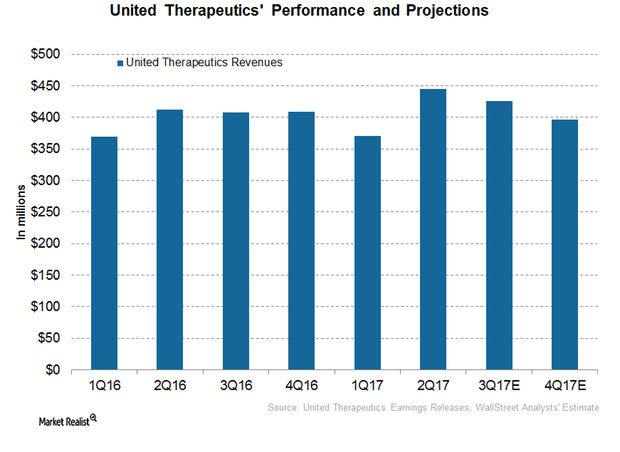 How Did United Therapeutics Perform in 2Q17?
United Therapeutics' revenue trends
In 2Q17, United Therapeutics (UTHR) generated revenues of around $445 million, which reflected an ~8% growth on a year-over-year (or YoY) basis and ~20% growth on a quarter-over-quarter basis. In 2Q17, United Therapeutics recorded its highest-ever quarterly revenues. In 1H17, United Therapeutics reported revenues of around $815 million, which reflected 4% growth on a YoY basis. Adcirca and Orenitram were the primary contributors to the high revenue growth in 2Q17. During the quarter, Adcirca and Orenitram witnessed 33% and 21% growth on a YoY basis, respectively.
Article continues below advertisement
2Q17 expenses
In 2Q17, United Therapeutics reported the cost of product sales at around $18.9 million compared to $20.0 million in 2Q16. In 2Q17, the company reported R&D (research and development) and SG&A (selling, general, and administrative) expenses of around $59.8 and $67.4 million, respectively. In 2Q17, United Therapeutics spent $210 million related to settlement negotiations with the U.S. Department of Justice to resolve an investigation associated with the company's support of 501(c)(3) organizations that provide financial assistance to patients.
Remodulin, Orenitram, and Adcirca are expected to continue to drive revenue growth for United Therapeutics throughout 2H17.
United Therapeutics' peers in the cardiovascular and pulmonary drug market include Pfizer (PFE), GlaxoSmithKline, Sanofi (SNY), Merck (MRK), AstraZeneca, Johnson & Johnson, and others. United Therapeutics' revenue growth could boost the share prices of the Vanguard Small-Cap Value ETF (VBR). United Therapeutics accounts for ~0.48% of VBR's total portfolio holdings.