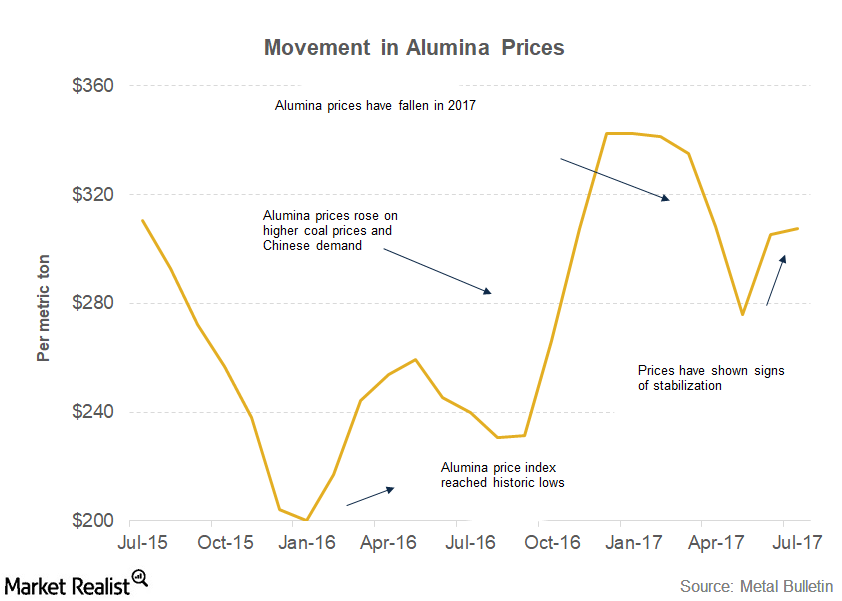 How Alumina Prices Affect Century Aluminum
Alumina prices
Alumina has been historically priced as a percentage of aluminum prices. Over the last couple of years, buyers and sellers have been turning to the API (alumina price index) for alumina price information.
Alcoa (AA) is an integrated aluminum producer like Rio Tinto (RIO) and Norsk Hydro (NHYDY) and produces alumina and aluminum (DBB).
Article continues below advertisement
Volatile prices
Aluminum prices are typically volatile because they are traded on exchanges, and sentiments tend to influence day-to-day price movements. API is not as volatile, as it is decided between buyers and sellers and reflects the dynamics of the physical market.
However, alumina prices have been quite volatile this year. Prices were strong at the beginning of the year but fell sharply in May. Since then, API has been stable around $300 per metric ton. During its 2Q17 earnings call, Century Aluminum (CENX) noted that the $300 per metric ton price level looks "rational" for alumina prices.
Aluminum and alumina prices
We also need to look at aluminum prices as a percentage of alumina. This ratio spiked at the beginning of 2017 with the steep rise in alumina prices. As alumina prices have pared some of their 2017 gains, the ratio is close to its historical levels.
Stable alumina prices are especially crucial for Century Aluminum, as it buys alumina from third parties. The company's earnings are negatively impacted when alumina prices rise without a commensurate increase in aluminum prices.
As alumina prices fell steeply in 2Q17, the decline negatively impacted Alcoa's earnings. You can read Alcoa's 2Q17 Earnings: What Made Investors Nervous? for an overview of Alcoa's 2Q17 financial results.
You can also visit our Aluminum page for ongoing industry updates.