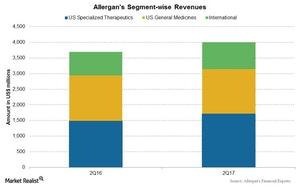 How Allergan's Segments Contributed to Overall Revenues
By Mike Benson

Aug. 22 2017, Updated 7:37 a.m. ET
Allergan's business segments
As discussed earlier, Allergan's (AGN) business structure has changed over the last few years due to the acquisitions and divestitures of various products and businesses, and is now classified into three business segments as follows:
US Specialized Therapeutics
US General Medicine
International Business
Article continues below advertisement
US Specialized Therapeutics
The US Specialized Therapeutics business includes products from various therapeutic areas including eye care, medical aesthetics including skin care, facial aesthetics, plastic surgery and other products, medical dermatology, and neuroscience and urology franchises.
The revenues for US specialized therapeutics were $1.7 billion during 2Q17, a 15.2% increase as compared to $1.5 billion during 2Q16. The growth was driven by the inclusion of LifeCell products and Zeltiq products, and the strong performance of key brands, partially offset by lower sales of Restasis and Aczone.
US General Medicine
The US General Medicine business includes products from therapeutic areas like the central nervous system, gastroenterology, women's health, anti-infectives, diversified brands, and other products.
The US General Medicine segment reported revenues of $1.43 billion for 2Q17, a 1.5% decrease in revenues as compared to $1.45 billion in 2Q16 due to lower sales of Asacol HD, Minastrin, and Namenda products, substantially offset by the strong performance of Vraylar, Linzess, and Lo Loestrin.
International
The International segment includes the sales of eye care products, medical aesthetics products, Botox therapeutics, and other products. The International business reported revenues of $859 million, a 13.4% increase as compared to $757 million for 2Q16. This included an operational growth of 16.2%, partially offset by a 2.8% negative impact of foreign exchange.
To divest the company-specific risks, investors can consider ETFs like the iShares US Healthcare ETF (IYH), which holds ~2.4% of its total assets in Allergan (AGN). IYH also holds 3.0% in Gilead Sciences (GILD), 3.0% in Bristol-Myers Squibb (BMY), and 2.5% in Eli Lilly and Co. (LLY).