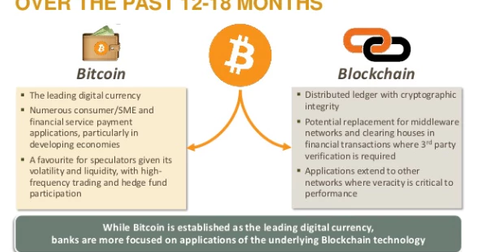 Hewlett Packard Enterprise: Blockchain Space Competition from IBM
By Adam Rogers

Updated
HPE might announce membership in Enterprise Ethereum Alliance
In the previous part of this series, we saw that Hewlett Packard Enterprise (HPE) has entered into a partnership with R3 to bring the latter's Corda blockchain technology into its Mission Critical systems. This move is designed to aid enterprises with high volumes of transactions.
HPE's Global Financial Services & Insurance Industry executive Markus Ogurek wants to continue the momentum in the blockchain segment and expects the firm to officially announce its membership in the Enterprise Ethereum Alliance by the end of this year.
IBM adopted blockchain technology in 2015
Article continues below advertisement
While HPE has been eyeing the DLT (distributed ledger technology) segment since the start of this year, technology heavyweight IBM (IBM) had adopted the blockchain technology way back in 2015. IBM is also the founding member of the "Hyberledger blockchain consortium." In early 2017, IBM was the first member of the consortium to have a live open-source platform with several proofs of concept reportedly in development.
In June 2016, IBM partnered with Japan's (EWJ) Mizuho Financial Group and announced a blockchain technology test to be used in settlement procedures. Plus, IBM announced partnerships with several financial companies—including Société Générale, Deutsche Bank (DB), HSBC, Unicredit, Natixis, and Rabobank—to build a blockchain-based platform. These banks formed the Digital Trade Chain Consortium in January 2017 to bridge the financing gaps impacting domestic as well as cross-border trade for SMB (small and medium enterprises) in Europe.
Leading investment banks, including JPMorgan Chase (JPM) and Godman Sachs (GS), have also invested in the blockchain technology.