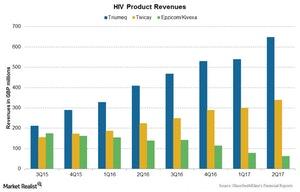 GlaxoSmithKline's HIV Business in 2Q17
By Mike Benson

Updated
ViiV Healthcare
ViiV Healthcare is a global specialist company in HIV medicines. It focuses on developing and delivering advanced treatments for patients with HIV. GlaxoSmithKline (GSK) is the major shareholder, while Pfizer (PFE) and Shionogi are among the other shareholders.
Article continues below advertisement
2Q17 performance
HIV products reported revenues of 1,116 million pounds during 2Q17—29% growth compared to 2Q16. The growth was driven by increased sales of drug Tivicay and Triumeq. The revenue growth was partially offset by lower sales of Epzicom/Kivexa in European markets.
US markets reported 36% growth in its 2Q17 revenues, while European markets reported nearly flat operating revenues. International markets, excluding the US and Europe, reported 27% growth in operating revenues due to the continued uptake of Triumeq and Tivicay.
Tivicay and Triumeq
Tivicay is a drug that treats HIV-1 infections along with other antiretroviral drugs. Tivicay reported revenues of 340 million pounds during 2Q17—37% revenue growth at constant exchange rates compared to 2Q16. The growth was driven by strong sales in the US, Europe, and international markets.
Triumeq, another blockbuster drug from ViiV Healthcare, is approved for use in combination with three antiviral drugs. Triumeq reported revenues of 648 million pounds—44% revenue growth at constant exchange rates compared to 2Q16.
The company expects the combined annual revenues for both these drugs to reach 4.5 billion pounds by 2020.
Other products
Combivir and Lexiva reported revenues of 36 million pounds—a 25% fall in global sale compared to 2Q16.
Epzicom/Kivexa reported revenues of 63 million pounds—a 63% fall in global sales compared to 2Q16. The sales were mainly impacted by generic competition due to patent expiry in 3Q16.
Also, Selzentry reported revenues of 29 million pounds—a 13% fall in its revenues compared to 2Q16. Its revenues fell due to lower competition from other drugs and lower sales.
To divest company-specific risks, investors can consider ETFs like the Vanguard FTSE All-World ex-US ETF (VEU), which holds 0.5% in GlaxoSmithKline. VEU also holds 0.5% in Sanofi (SNY), 0.4% in AstraZeneca (AZN), and 1.0% in Novartis AG (NVS).