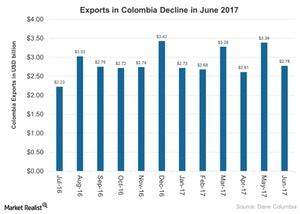 Exports in Colombia Fell in June 2017
By Mary Sadler

Aug. 10 2017, Updated 5:24 p.m. ET
Colombian exports in June 2017
Colombian (GXG) exports stood at $2.8 billion in June 2017, an 0.8% increase year-over-year and an 18% decline on a month-over-month basis. However, exports in the first half of 2017 jumped by about 20.4% as compared to the corresponding period last year.
The external sector has been a major contributor to the Colombian economy despite the drop in oil prices (USO) and extreme climate due to the El Niño effect in the last few years. Let's look at the exports in Colombia over the last year in the below chart.
Article continues below advertisement
Commodity exports in June 2017
Colombian exports saw the smallest gain since October 2016, as exports increased at a slower pace for agricultural goods, food, and beverages, and fell for fuels and mining products. Dole Foods (DOLE) controls about one fifth of Colombia's banana and flower exports as of 2016.
On the contrary, the exports of manufactured goods rose at a faster rate driven by higher sales of automotive vehicles, essential oils and perfumery products, and plastics. Some of the large auto manufacturers operating in Colombia are General Motors (GM), Renault, Mazda, and Toyota (TM).
Colombian oil exports
Colombia oil exports stood at 18.2 million barrels in June 2017, an 11.2% decrease as compared to 20.5 million in the same period the previous year. The Colombian conflicts over the years have impacted the oil and gas operations in Colombia but should improve with the peace agreement signed in 2016.
Peace agreement and impact on exports
The peace agreement is expected to boost the infrastructure development and basic services in the country. The improved infrastructure with increased investment is expected to help support the export-dependent sectors like oil and gas (USO) (DBO) in Colombia. Some of the US-listed energy companies operating in Colombia include Occidental Petroleum (OXY), BP (BP), and ExxonMobil (XOM).
The economic activity in Colombia is expected to gradually gain strength in 2017 after disappointing growth in 1Q17. The improved growth expectation for the Colombian (GXG) economy in 2017 is mainly due to the accommodative monetary policy and reduced instability in 2017. External factors are also expected to support economic activity as global demand recovers in 2017. The economic growth is expected to be at 2.3% and 3% for 2017 and 2018, respectively, according to the IMF report from May 2017.
Let's look at the Colombian auto manufacturing sector in the next article.