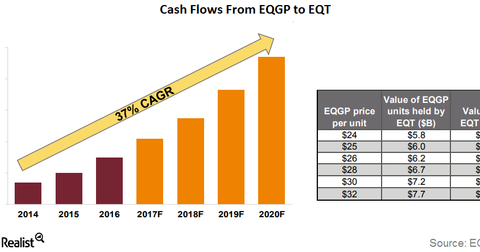 EQT's Midstream Advantage: Which Way Could Shareholders Swing?
By Keisha Bandz

Updated
EQT's midstream advantage
EQT (EQT) holds 90.0% in EQT GP Holdings (EQGP), which in turn holds a 1.8% general partner interest and a ~27.0% limited partner interest along with incentive distribution rights in EQT Midstream Partners (EQM), which in turn holds the midstream assets.
As we discussed in the previous parts, EQT expects the combined EQT-RICE ownership to result in the fourth largest natural gas–gathering system in the United States. The acquired midstream assets—with a forecast 2018E EBITDA (earnings before interest, tax, depreciation, and amortization) of $130.0 million—would significantly enhance EQT's drop-down portfolio.
Speaking about the cost benefits of the transaction, EQT's management noted in the 2Q17 earnings conference, "It's going to require less capital to deploy the midstream solution for whatever drilling that we do. And some of that may accrue to the midstream business and some of that may accrue to the upstream business, but there clearly will be less capital required to gather the volumes that get drilled."
Could shareholders cave in to Jana Partners' demands?
As we saw in the previous parts, activist fund Jana Partners has been attempting to thwart the EQT-RICE acquisition, trying to convince the company to separate its upstream and midstream businesses. EQT responded to the criticism that the separate parts could turn out to be worth more if the businesses were, in fact, separated, which EQT acknowledged. The company said it was developing a plan to address this issue by the end of 2018.
EQT's management laid out various paths to maximize shareholder value, including spinning off its midstream business, selling its midstream or upstream business, selling off its shares in the midstream business, and stock buybacks.
Shareholders could possibly ignore Jana Partners' concerns and suggestions and put their trust in EQT's management. They could be influenced by the fact that some of EQT's midstream projects such as the Mountain Valley Pipeline will still come online or have recently come online (i.e., the Ohio Valley Connector). They may also be influenced by the future drop-down potential.
Keep watching Market Realist as we track the latest developments of the EQT-RICE merger.