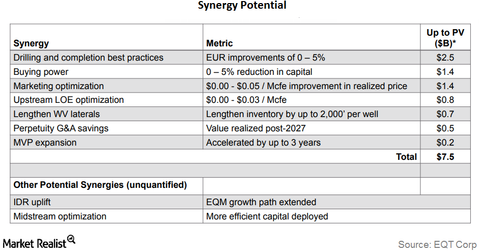 EQT'S Forecast: Financial Implications from EQT–Rice Energy Deal
By Keisha Bandz

Sep. 1 2017, Updated 2:37 p.m. ET
Financial implications: EQT–Rice Energy deal
Having looked at the upstream and midstream benefits of EQT's (EQT) acquisition of Rice Energy (RICE), let's look now at the financial implications or the synergy potential that EQT expects once the transaction is completed.
EQT believes the PV (present value) of the synergies following the completion of the deal is more than the $2.5 billion it had initially specified. Of the $2.5 billion, $1.9 billion is expected to come from efficiencies driven by longer laterals, high grading of its drilling program, and lower surface costs. The remaining $600.0 million is expected to come from a reduction of $100.0 million in G&A (general and administrative) expenses per year, discounted for ten years.
EQT's management commented in the 2Q17 earnings conference, "Given the overlap of the businesses and after careful evaluation, we believe the $2.5 billion is a conservative estimate and are confident in our ability to achieve these targets."
Additional benefits or synergies the company expects by combining EQT and Rice's best drilling and completion techniques are increasing well recoveries. The company has pointed out that it's worth $500.0 million for every 1.0% increase in EUR (estimated ultimate recovery) per foot.
EQT also noted that increased leverage in acquiring drilling and fracking services would be worth $300.0 million for every 1.0% improvement in its service costs. G&A savings beyond ten years is worth approximately $500.0 million, according to the company.
Article continues below advertisement