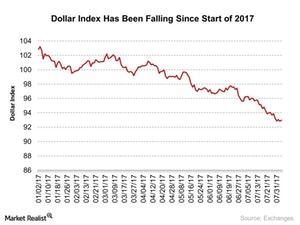 Dollar Index Has Been Falling since Start of 2017
The Dollar Index
In a previous part of this series, we discussed how the Dollar Index (UUP) has performed in the past seven months. On a year-to-date basis, the Dollar Index has fallen nearly 9.5% as of August 2, 2017. In July 2017, it fell nearly 3.4%.
Other currencies like the euro (FXE) and some emerging market (EEM) currencies are getting stronger against the US dollar (USDU). Major indexes of the emerging markets (VWO) are also showing gradual improvements. The economies of India (INDA) and China (FXI) (YINN) are growing at a rate of 6% to 7%, respectively. The Dollar Index and emerging markets have an inverse relationship.
Article continues below advertisement
The delay in the implementation of President Trump's proposed reforms is weakening the movement of the Dollar Index (USDU). In spite of the gradual rate hike, the Dollar Index is showing weakness. The index generally strengthens when the central bank tightens the rate. St. Louis Fed president James Bullard recently said that he is not supporting further rate hikes. The falling expectation for more rate hikes in the near future is hampering the movement of the Dollar Index.
The weaker dollar is good for the country's exports. It might help the economy (QQQ) (SPY) in the form of higher export growth. However, a fall in the country's currency also affects investors' sentiment towards the economy.
You may be interested to read, the S&P 500 and Its Major Sectors: Performance in June 2017.