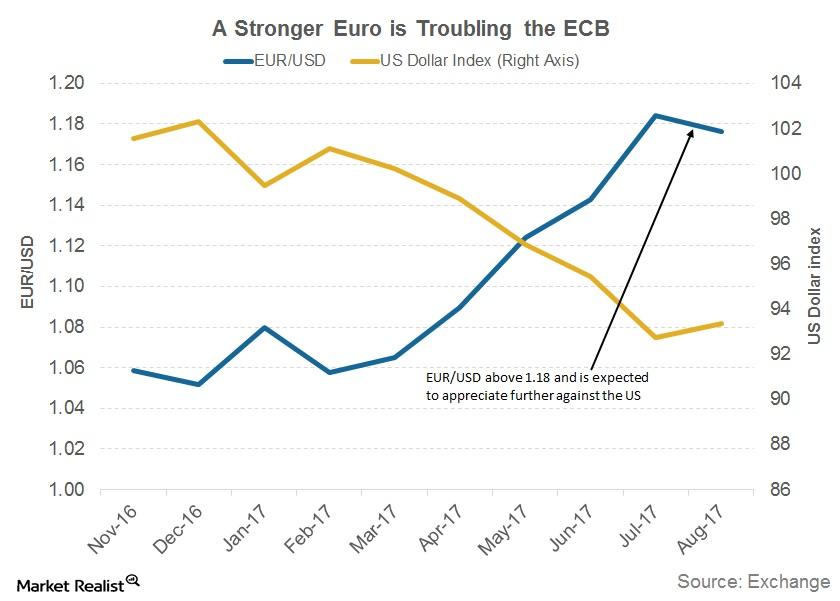 Could a Strong Euro Stop the ECB from Tightening Policy?
The US dollar lost the currency race
The euro (FXE) has appreciated to a two-year high of ~1.19 against the US dollar (UUP) so far in August. A diverging monetary policy has been the theme for the currency markets in the last 12 months.
First, the Federal Reserve communicated an aggressive tightening stance and started increasing the US interest rates. A slowdown of the US economy in 1Q17, lower levels of inflation, and the Trump administration's lack of meaningful reforms prompted a swift decline in the US dollar (USDU).
Article continues below advertisement
Euro appreciated to a two-year high
The European Central Bank (or ECB), encouraged by the consistent growth in the European economy (VGK), sounded hawkish in its most recent communications. An improving economy and a reduction in political risks made the euro (EUFX) the preferred currency in recent months.
The shared currency appreciated ~11.9% against the US dollar in 2017 and is expected to increase further this year. This gain in the euro is a concern for the ECB because a higher-valued euro would make European imports cheaper and reduce its inflation growth. European exports would also be impacted, as European products would become more expensive in the global markets.
Stronger euro to check the ECB
A stronger euro could restrain the ECB from aggressive tightening. This was evident in the ECB's July meeting, in which the ECB chairman, Mario Draghi, stated that the central bank was in no rush to tighten monetary policy.
In the long run, there could be a further appreciation of the shared currency, which would mean a gradual reduction of QE from the ECB. The ECB could face a tough task of balancing the European economy due to a stronger euro. The risks to the view of further euro appreciation would be a strengthening dollar due to any surprise policies from the Trump administration.