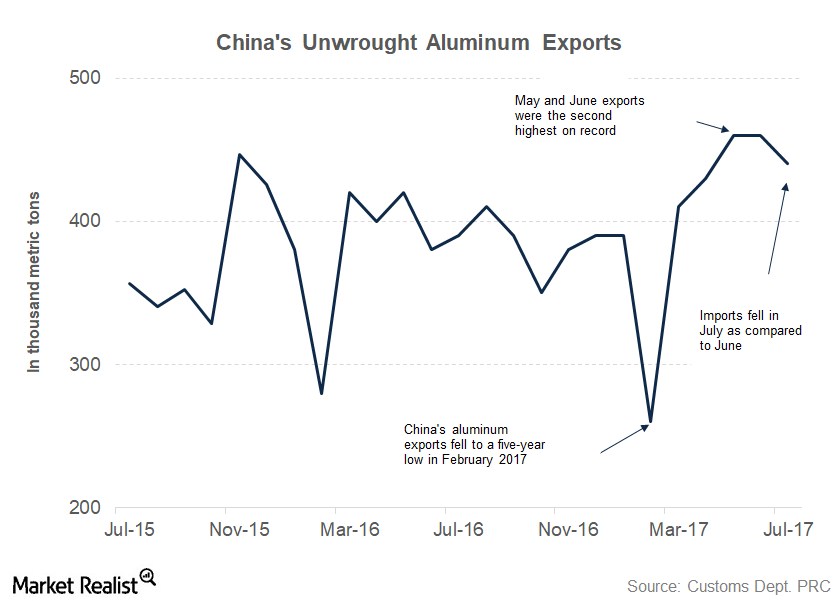 China's Aluminum Exports Fall from Highs—a Relief for Alcoa
China's aluminum exports
Previously in this series, we've looked at China's July steel exports. In this article, we'll look at the country's aluminum exports. To be sure, both steel and aluminum are grappling with similar issues—including massive overcapacity, especially in China. And, like steel, China has publicly stated its intent to curtail excess aluminum capacity. Let's see if the proposed cuts reflect in China's aluminum exports.
Article continues below advertisement
Exports fall
China exported 440,000 metric tons of unwrought aluminum in July, compared to 460,000 metric tons in June. Notably, China's May and June aluminum exports were the second-highest monthly records. The marginal decline in China's July aluminum exports is a welcome sign for US aluminum producers like Alcoa (AA) and Century Aluminum (CENX).
Notably, like steel, China's aluminum demand has been better than expected this year. Higher Chinese aluminum demand prompted Alcoa to lower the country's production surplus forecast for 2017. However, despite the lower-than-expected surplus in China, Alcoa maintained its forecast for a moderate surplus of 300,000–700,000 metric tons in the global markets (NHYDY)(RIO).
Restarts in the cards?
Aluminum prices have shown signs of stabilizing, and some producers might want to take a new look at their idled capacity in a bid to capitalize on higher aluminum prices (DBB). Even Alcoa is looking to partially restart its Warrick smelter. Century Aluminum could also look at increasing its aluminum production if the company is able to secure competitive power supply arrangements at its Mount Holly plant.
While rising ex-China aluminum production could offset any decline in Chinese exports, global aluminum demand is still growing at a decent pace to absorb the small incremental supply. However, Chinese supply could be the wild card in the coming months as markets seem to be factoring in lower exports in the coming months.
In the next and final part of this series, we'll look at China's July copper imports.