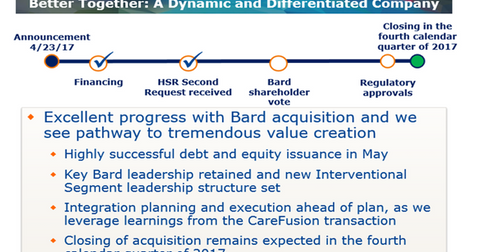 Becton Dickinson's Bard Acquisition: On Track, Gaining Momentum
By Sarah Collins

Updated
Company overview
Becton Dickinson (or BD) (BDX) is among the five largest medical technology companies in the United States. Its addressable market almost doubled in size with the acquisition of CareFusion, worth $12.6 billion, in March 2015. The company has positioned itself as the leader in medication management and has executed successfully a number of integration and restructuring initiatives. It has a more robust business model and has generated higher margins in recent years. BD is set to complete another large acquisition of C.R. Bard (or Bard) (BCR) worth $24.0 billion in the fall of 2017. It is the second largest deal of 2017 after Johnson & Johnson's (JNJ) acquisition of Actelion, worth $30.0 billion. Another major acquisition in the medical device industry in the United States is the recently closed acquisition of St. Jude Medical by Abbott Laboratories (ABT). For more details on the BD-Bard deal, read the series BD to Acquire C.R. Bard: A Big-Ticket Medical Device Acquisition.
Article continues below advertisement
Deal highlights and progress
On August 8, 2017, Bard shareholders approved the merger of BD and Bard. Bard has been progressing with the preparation of its integration execution plan, having leveraged its experience from the CareFusion acquisition. According to BD, it is prepared and well ahead of where the company was at the time of the CareFusion deal. BD has retained a number of key Bard leaders, which will help carry forward the successful business after the merger.
BD is working on integrating the two businesses while maintaining its focus on its key products, Pyxis ES and IV catheter, and at the same time enabling an optimized customer base for the company. The company is also working on the integration of its surgical space.
BD expects to realize acquisition cost synergies of $300.0 million by fiscal 2020 and measurable revenue synergies by fiscal 2019.
BD's stock price is expected to be impacted on the day the merger goes into effect. The event could also trigger a change in the price of the iShares MSCI USA Minimum Volatility (USMV), which holds approximately 1.6% of its total holdings in BD.
Next, let's look at BD's emerging market growth strategy and recent performance.