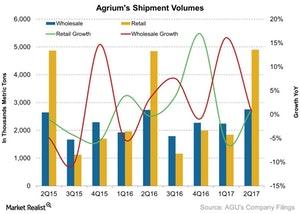 Agrium's Margins See Expansion despite Weak Prices in 2Q17
By Adam Jones

Nov. 20 2020, Updated 4:57 p.m. ET
Sustaining margins
Despite a sales decline and lower year-over-year price realization, Agrium's (AGU) margins saw an improvement during 2Q17. Companies such as Agrium, PotashCorp (POT), Mosaic (MOS), and Intrepid Potash (IPI) have been working to lower their cost of production amid lower price realization. Lowering costs has benefitted these companies and ensured a higher sustainability rate of margins given that the industry is in an excess capacity cycle.
Article continues below advertisement
Margin expands
During 2Q17, Agrium reported total gross income of $1,527 million, which was almost unchanged from last year's gross income. This delivered a gross margin of 24.9%, which increased from 23.8% year-over-year. While the company had lower revenue compared to last year, the unchanged margins indicate cost optimization at the company during the quarter compared to last year.
The improvement in gross margins also traveled down to EBITDA (earnings before interest, tax, depreciation, and amortization) margins. Year-over-year, the EBITDA margins saw an improvement of 100 basis points to 16.7% from 15.7% in the corresponding quarter a year ago in 2Q16.
The net margins, however, remained almost unchanged year-over-year at 9% and may see improvement following the company's merger with PotashCorp. The merger would likely bring further cost optimization to both companies and help in driving higher margins and valuations.
Of course, an upward price movement in NPK (nitrogen, phosphorous, and potassium) would also drive higher margins for agribusiness companies (MOO).
You can track prices at Market Realist's Agricultural Fertilizers page.