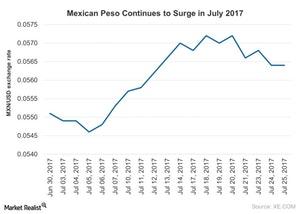 Will the Mexican Peso Continue to Surge in 2017?
Mexican economy
The Mexican peso (EWW) continued to rise in July 2017, touching an 18-month high following the easing of President Donald Trump's anti-trade rhetoric in the last few months. Economic fundamentals such as improved manufacturing and exports have also been supporting the surge in the peso in 2017.
The peso was trading at 0.06 per US dollar on July 25, 2017. Let's take a closer look at the currency's performance.
Article continues below advertisement
Performance of the peso
The peso rose ~2% against the US dollar (UUP) (USDU) in July 2017. So far in 2017, the peso has risen ~15% against the US dollar as of July 25, 2017. The peso (HEWW) continued to rise in July, followed by the Mexican government's conscious efforts to look beyond the US (SPY) (QQQ) market.
The efforts of the Mexican government to undermine US pressure about NAFTA (North American Free Trade Agreement) seems to be helping with the surge in the peso so far in 2017.
Interest rate hike since US election
In June, the central bank of Mexico raised its benchmark interest rate for the fifth time in 2017. It hiked the rate by 25 basis points to 7% on June 22. Mexico's central bank is expected to raise the rate further in 2017 to control its rising inflation and support the surge in the Mexican peso.
Currently, the short-term interest rate in Mexico for May 2017 is at its highest level in the last eight years. Inflation is surging and is expected to remain above the country's 3%–4% target rate in 2017.
Investments
Investors looking for exposure to the peso can invest in ETFs such as the Deutsche X-trackers MSCI Mexico Hedged Equity ETF (DBMX) and the iShares Currency Hedged MSCI Mexico ETF (HEWW). These ETFs are peso-hedged and track the Mexican market.
Let's look at Mexico's manufacturing activity in our next article.