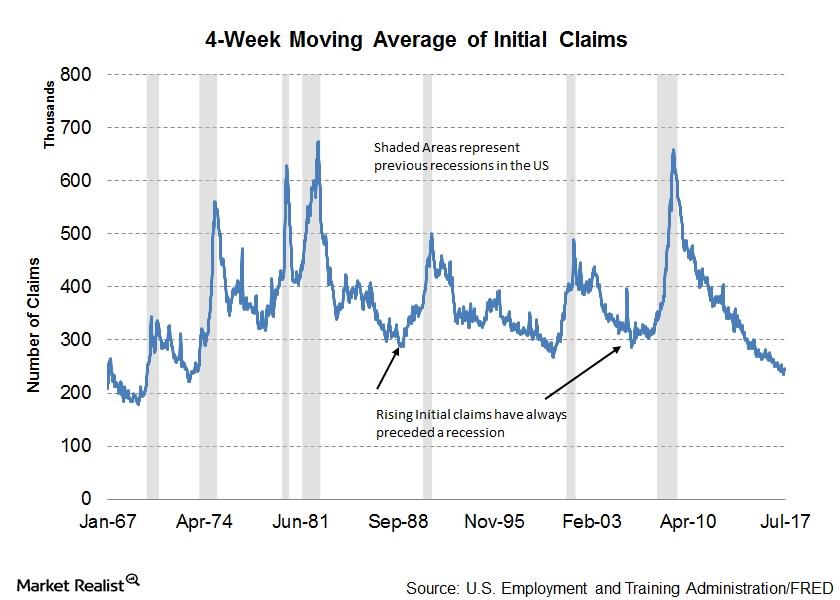 Will Stable Weekly Unemployment Claims Drive the US Economy?
Weekly claims remain stable
The number of weekly unemployment claims represents a true picture of employment conditions in the US economy. The Conference Board Leading Economic Index (or LEI) uses this economic indicator in its model.
The factor assigned to weekly unemployment claims for calculating June's index value is 0.033, or 3.3%. Markets (SPY) (QQQ) are usually more focused on the non-farm payrolls data that are released in the first week of every month than they are on weekly data because weekly claims are more sensitive to business conditions. The sum of weekly claims contributes to monthly unemployment data, but weekly volatility in claims can be an indication of industry uncertainty.
Article continues below advertisement
Data from recent weeks
The latest weekly claims data reported on July 20, 2017, stood at 233,000 jobless claims, compared to the market's expectation of 245,000 claims, a reduction of 15,000 compared to the previous week. The average for weekly jobless claims has been hovering around the 245,000–250,000 mark in the last six months. The unemployment rate has been below the Federal Reserve's target of 4.5%.
The Conference Board LEI for June reflects average jobless claims of 243,600 in the month, compared to 239,700 claims in May. A rise in the number of claims is negative for the economy, so June's average weekly initial claims had a net contribution of -0.5 to the LEI.
Implication for the markets
If there's any surprise in the initial claims data, first reactions are usually in bonds (BND) and currency markets (USDU). Lower unemployment is one of the Fed's key targets, and any surprises in the data could affect the Fed's policies as well as the market's reaction. A lower number of claims is positive for US bonds (IEF) and the US dollar (UUP), while the opposite is negative for these assets.
In the next article, we'll analyze how new manufacturing orders improved in June.