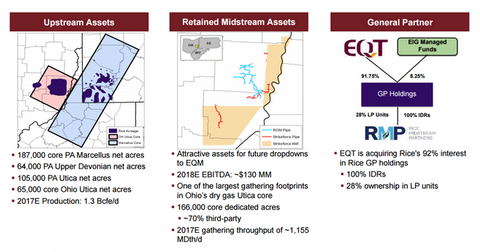 Will Jana Partners Succeed in Foiling EQT's Plans?
By Keisha Bandz

Updated
Jana Partners' view on the EQT-RICE Deal
On Monday, July 3, 2017, activist hedge fund Jana Partners revealed a 5.8% stake in EQT (EQT). The hedge fund is hoping to thwart EQT's plans to acquire Rice Energy (RICE).
Earlier in June, EQT announced that it intends to acquire Rice Energy (RICE) for approximately $6.7 billion. According to EQT's investor presentation, the combined EQT-RICE would result in the biggest natural gas producer in the United States ahead of companies like ExxonMobil (XOM), Chesapeake Energy (CHK), and Southwestern Energy (SWN).
Article continues below advertisement
The New-York-based hedge fund has partnered with three other investors including Atlas Energy Group to prevent the deal from completing. Not only does the activist investor want EQT to abandon its acquisition, it also wants EQT to isolate its natural gas midstream assets from its exploration and production (or E&P) business. Jana also proposed that EQT change its board structure, suggesting Daniel Herz and Edward Cohen, executive chair and president of Atlas Energy Group, respectively, as potential nominees.
EQT's stance
EQT acknowledged that the separate business parts could turn out to be worth more if the businesses were in fact separated. The company said that it would evaluate and address its options and have a plan by the end of 2018.
While EQT could see a higher tax burden if it acquired Rice Energy, the company could save $600 million in general and administrative expenses after the acquisition, according to EQT. Its total synergies following the transaction are expected to be $2.5 billion.
Jana Partners has fashioned several corporate deals. It was also behind the recent Whole Foods Market acquisition by Amazon. You can read Whole Foods Goes in Amazon's Basket in $13.7 Billion Deal to know more.