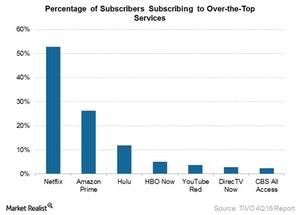 Will DISH's Sling TV Rise to the Streaming Services Competition?
By Shirley Pelts

Jul. 26 2017, Updated 9:39 a.m. ET
Over-the-top landscape
DISH Network's (DISH) Sling TV is countering increasing competition from video streaming services such as Netflix (NFLX) and online television services such as Hulu and Alphabet's (GOOG) YouTube TV.
While Netflix has already crossed 50 million subscribers in the United States (SPY), Hulu's online television service, Hulu Live, is also trying to extend its presence on new devices. Recently, Hulu Live has extended its presence to platforms such as the Amazon (AMZN) Fire.
Alphabet's (GOOG) YouTube TV is also expanding to more markets in the United States. It remains to be seen how DISH's Sling TV will counter these services.
Article continues below advertisement
However, DISH believes that the launch of such services, including AT&T's (T) DIRECTV Now, has resulted in more Sling TV subscribers' opting for add-on packages besides the basic package. DISH believes in the future of OTT (over-the-top) services and feels that such services will increasingly eat into the market shares of pay-TV services.
Now let's look at what could be fueling the rise in streaming services in the United States.
Why are streaming services on the rise?
According to a Leichtman Research Group report from March this year, ~64% of households subscribe to video streaming services such as Netflix (NFLX). This statistic indicates that there's been a major shift in viewers' television habits, with most viewers opting for streaming content.
One reason for the popularity of streaming of content is that it's cheaper to watch content online than to pay for cable. While Netflix plans average $10 per month, a cable bill can range from $100 to $150 per month.